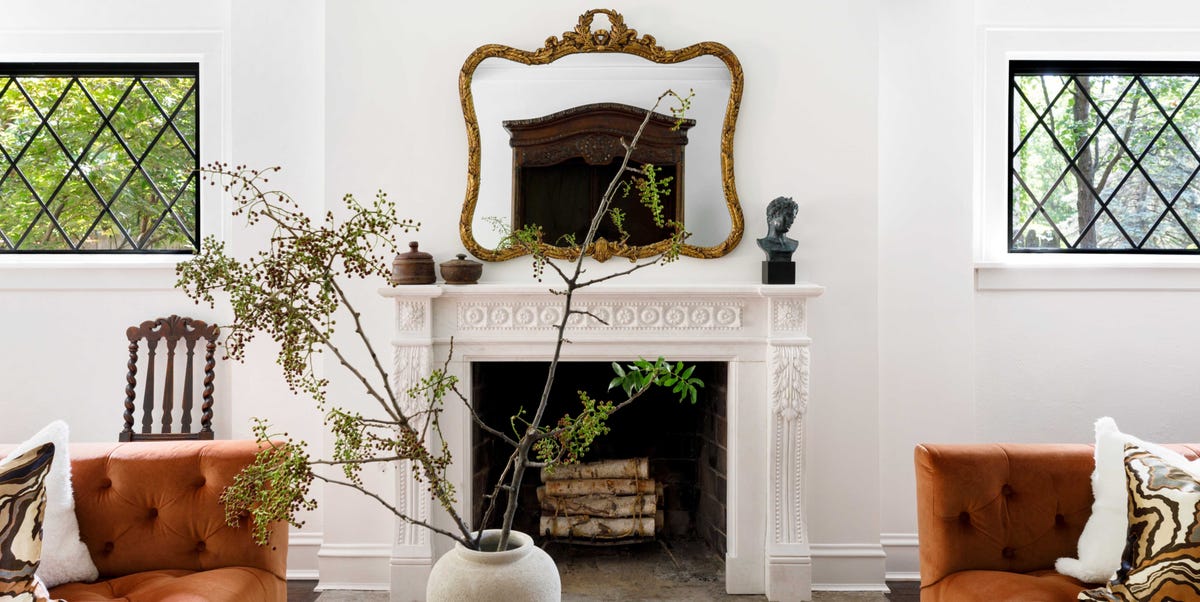 White may seem like a pretty straightforward paint color to select, but the options are vast. You can go with a cool, bright white, a warm-toned off-white, a white neutral, or something in between. But there are some hues that designers turn to time and time again. One of these designer favorites is Benjamin Moore's White Dove. The soft white is luminous, making it an excellent choice for everything from moldings and trim to all of the walls in a room. "To me, it is the perfect shade of a classic, warm white," designer Natalie Chong says.
The options are endless when using the blank slate color as it works with nearly any color palette and style—from maximalist settings to sleek, modern designs. "It has the softness of alabaster, with a little gray and a little yellow," says Doty Horn, founding director of color marketing firm ColorVoyant and former director of color and design at Benjamin Moore & Co. She explains: "For long-term livability, what helps is that yellow cast. Put it up against other colors and you'll see how well it works. It's practically universal."
Need proof? There's plenty. Ahead, browse living rooms, kitchens, bedrooms, and more that all feature Benjamin Moore's White Dove paint—which can, of course, look different in each space depending on the lighting. By the time you're done, you'll either want to redo your moldings or know exactly which room in your house could become an everlasting oasis with a coat of the coveted paint.
---
Love looking at designer spaces for inspo? Us, too. Let's obsess over them together.
---
Advertisement – Continue Reading Below
1
A Cozy Gathering Spot
The walls coated in White Dove allow the mirror–a Facebook Marketplace find for $200!—and decor pieces on the mantel to stand out in this living room by Chicago-based interior designer Caroline Turner.
2
A Serene Escape
An antique tub and reclaimed marble flooring in a check pattern are given center stage in this bathroom with White Dove walls by designer Sheldon Harte. The paint's softness enhances the room's serene, spalike atmosphere.
3
An Intimate Dining Area
In a Los Angeles home, designer Madeleine Stuart painted many of the rooms in White Dove to allow all of the other features in the home to pop—like the woodwork painted in a brown-black and the starry painted ceiling in this dining room.
4
A Snug Corner
In designer Elizabeth Pash's home, the main bedroom offers a bright, airy feel made possible by the partially-dressed Palladian windows and light reflecting off of the White Dove-painted walls.
5
A Calming Kitchen
"I'm definitely not a minimalist, but as someone who's surrounded by pattern and color every day, I wanted this to be more calming and quiet," says designer Palmer Weiss of her Sonoma County home's kitchen that features White Dove wall paint paired with cabinetry painted in Benjamin Moore's Grant Beige.
6
A Historic Summer Getaway
In the main bedroom of a Nantucket summer home, designer Elizabeth Georgantas preserved the cracked beams (above the antique decoupaged bed) and painted them in White Dove for a refreshed yet lived-in look.
8
A Maximalist City Pad
Designer Lisa Stone went all out for her clients' new downtown Philly pad. In the maximalist home's kitchen, custom cabinetry painted in Benjamin Moore's California Blue and White Dove playfully complement the colorful backsplash and chair fabric.
9
A Modern Transformation
To unify the rooms in a once-kitschy lake house, designer Andrea Goldman turned to White Dove. "It's amazing what a coat of white paint can do," she says. The paint helped camouflage some of the more interesting architectural choices, like a Swedish-inspired railing that overlooks the dining room seen here.
10
A Cheerful Entertaining Space
On the walls of a California home's kitchen, designer Clara Jung of Banner Day Interiors used White Dove to create an overall classic and elevated feel.
11
A Family Room Full of Pastels
12
A Beachside Oasis
White Dove softened the lines of a beachside Malibu cottage designed by Christine Markatos Lowe. "This creamy shade balances out blues reflecting off the ocean," she explains. "The white helps scatter the light throughout the house; the effect is dazzling!"
13
A Light Facelift
For a once-gloomy Mediterranean abode, designer Marie Flanigan used White Dove in various areas of the home. On the walls of the main bedroom, the paint acts as a backdrop to the large, recessed headboard made of a soothing blue material.
15
An Elegant Yet Durable Kitchen
The White Dove-coated cabinets in this kitchen by designer Anelle Gandelman offer a crisp, modern look when paired with the marble backsplash and quartz counters. Brass accents and a stained oak island add warmth.
This content is created and maintained by a third party, and imported onto this page to help users provide their email addresses. You may be able to find more information about this and similar content at piano.io
Advertisement – Continue Reading Below
https://www.housebeautiful.com/design-inspiration/g38236670/benjamin-moore-white-dove/