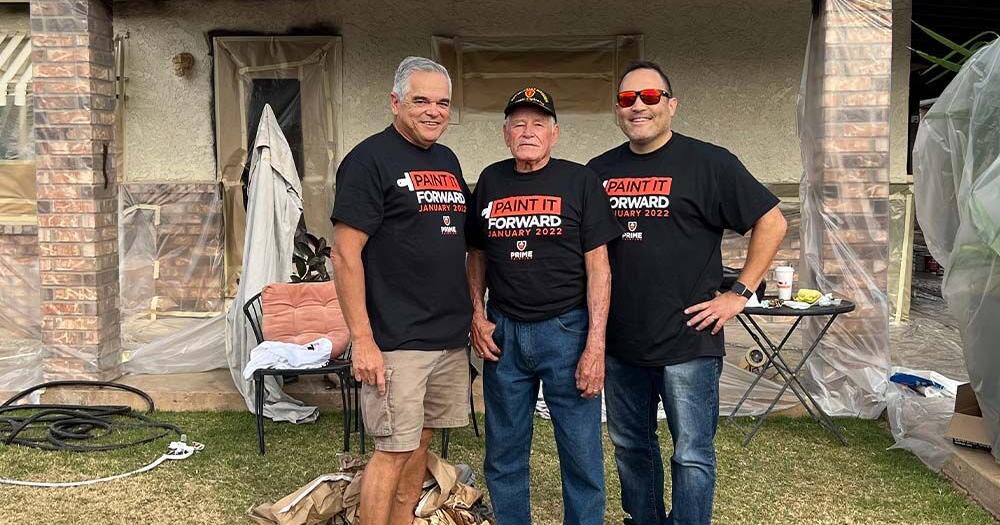 The pandemic has hit families across the country hard, whether that be financially or emotionally. It seems the smallest to-dos have been put on the backburner. 
For lifelong Tolleson resident Ernest Tarango, his desire to upkeep his home of 60 years slowly dwindled after his wife died in 2021. 
After being married for 63 years, Dora Tarango lost her battle to cancer in April 2021. Together, Ernest and Dora raised three boys and three girls in their Tolleson home on Garfield Street. 
Knowing the struggles the world has faced since the start of the pandemic, Prime Painting and Construction of Tempe launched a contest that would give one family the chance to get their entire house painted for free. 
"We wanted to do something for the community," said Jim Bailey, Prime Painting CEO. 
"I sent an email out to our clients and our community that said we're looking to do a paint job for somebody who can't afford it and we'd love to be able to help out. We know a lot of people have been hit pretty hard right now, so we had people submit stories on our website and then we took all the stories and printed them all out and as a team we decided."
Entries required an explanation as to why they should be selected for the paint job. After seeing the contest posting, Mark Tarango knew he wanted to enter his father into the drawing. 
"I remember my mom was always keeping up with everything. She always loved to redecorate and remodel," Mark said. "But just this past year, my mom passed away after battling cancer. He just seemed to have lost that spirit of wanting to keep up with the house and do anything, so I knew that the house needed a good paint job."
Mark submitted the entry in early December and received a call from Bailey a few weeks later that his father's house would be awarded the free painting service. The prize was worth about $3,200. 
Mark gave his father the good news on Christmas, to which Ernest responded with what his son refers to as his "classic one-liners." 
"He's always one to joke," Mark said. "The first thing he said after opening it was, 'They can just paint the whole placeblack.'"
The Prime Painting team assembled at the Tolleson home on Jan. 15, and within hours of the completed job, Mark said his father was already receiving compliments from his neighbors. 
"When Prime Painting finished the job, my dad said, 'Man, this is sharp. This is like my old house again.' He was really, really happy with everything, and he even said, 'Your mom would be really happy right now.'"
Mark admitted that without the Prime Painting prize, the house wouldn't have received such quality work. 
Looking back, Bailey said the giveaway is something he wants to continue. 
"Those things just make you feel good," he said. "So, we decided to do it again later this year. Once it closed, we had a lot of different candidates that were compelling, so it was hard to choose one." 
Bailey said his team will reopen the contest this summer. This first contest attracted 12 entries. 
After 20 years in the industry, Bailey opened Prime Painting in 2019. 
"We're really focused on relationships and the community," Bailey said. "It's about the relationships with the people that work here, growing and developing them so that they can better take care of their families, but also relationships with our clients. I think at the end of the day that you've got the house painting, but our real jam is just the people and their lives." 
https://www.westvalleyview.com/news/tolleson-man-s-house-painted-for-free/article_62959250-7fb7-11ec-a647-37741d22b4a4.html