The 15th-century Chhode monastery is tucked into a side valley of remote Mustang, a district in northern Nepal. Outside, some scruffy sheep search for greenery among the cold and barren moonscape flanked by sheer white Himalayas as inhabitants spin embossed prayer wheels. The monastery, with walls formed of clay and gravel, blends in with the wind-beaten cliffs; its towering roof is held up by a forest of wooden pillars. Enormous gilded statues stand tall in the hardscrabble, desolate scenery.
Inside the monastery, Chhimi Rinjin chants rhythmically, "Om mani padme hum." He is performing a ritual prayer ceremony before a crowd of crimson-robed devotees of Tibetan Buddhism. The sound echoes within the crusty earthen walls. Soot, smoke, and grease from butter lamps rise to the dome-shaped ceiling covered with paintings of fearsome creatures with fangs and turquoise skin. For Buddhists, these figures represent the protector deities.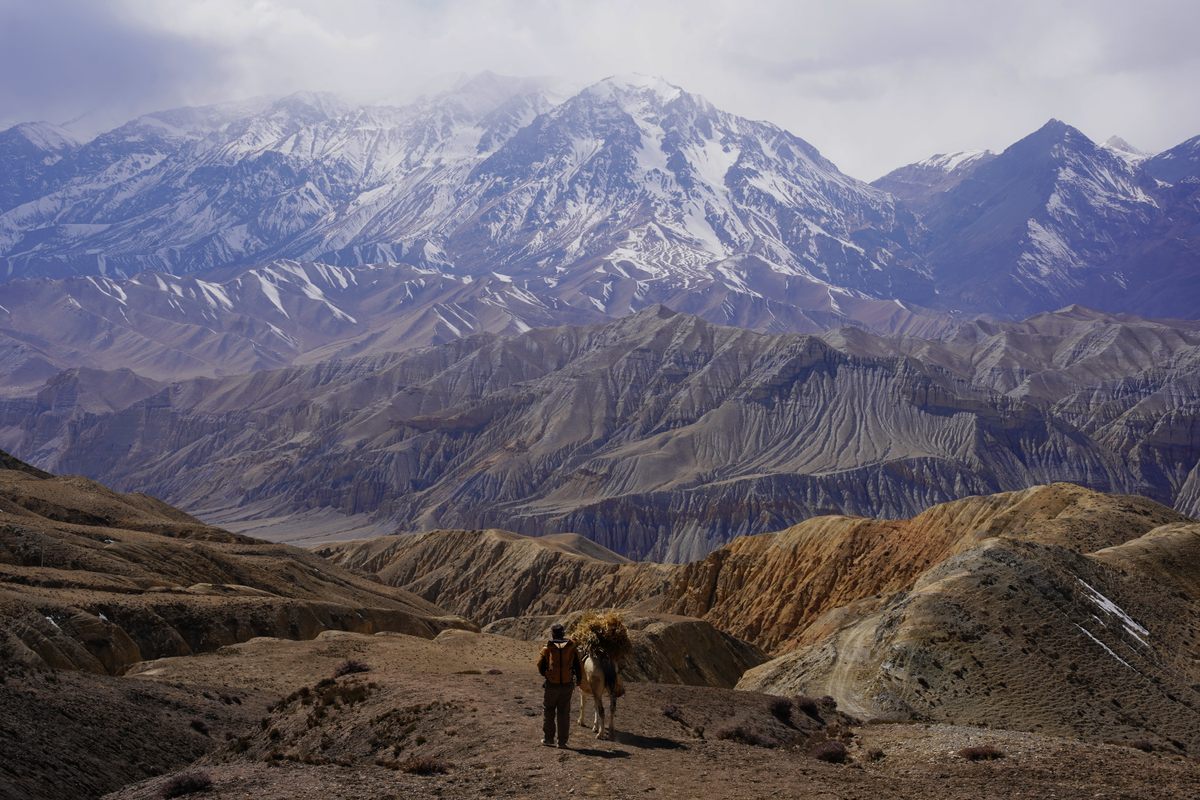 Rinjin has been a member of the local monastic community for 30 years, giving continuity to some of the last surviving relics of an ancient Tibetan-Buddhist culture that has been systematically wiped out inside neighboring China-controlled Tibet. While Chhode is a living temple for Rinjin and others who live and meditate under its roof, for aspiring practitioners, it is one of the last learning centers of the Sakya lineage of Tibetan Buddhism. The monasteries—at least one in each village of Mustang—also create the tourism revenue that helps sustain the Indigenous community.
But the monasteries that have stood through centuries are now crumbling. Experts say drastic climate change is to blame and that other earthen structures may succumb to a similar fate if urgent measures aren't taken for preservation.
It is not an abstract problem; the roofs of the Chhode monastery have begun to leak. The sacred art inside, which has existed undisturbed on the walls for over 500 years, is now flaking and may be lost forever as rising dampness peels paint and plaster from the mud walls.
"These are our homes," says Rinjin. "Without the cultural identity of Tibetan Buddhism, nothing remains of us people. If it continues like this, there will be fewer monks in the monastery, and the culture will soon be strangulated."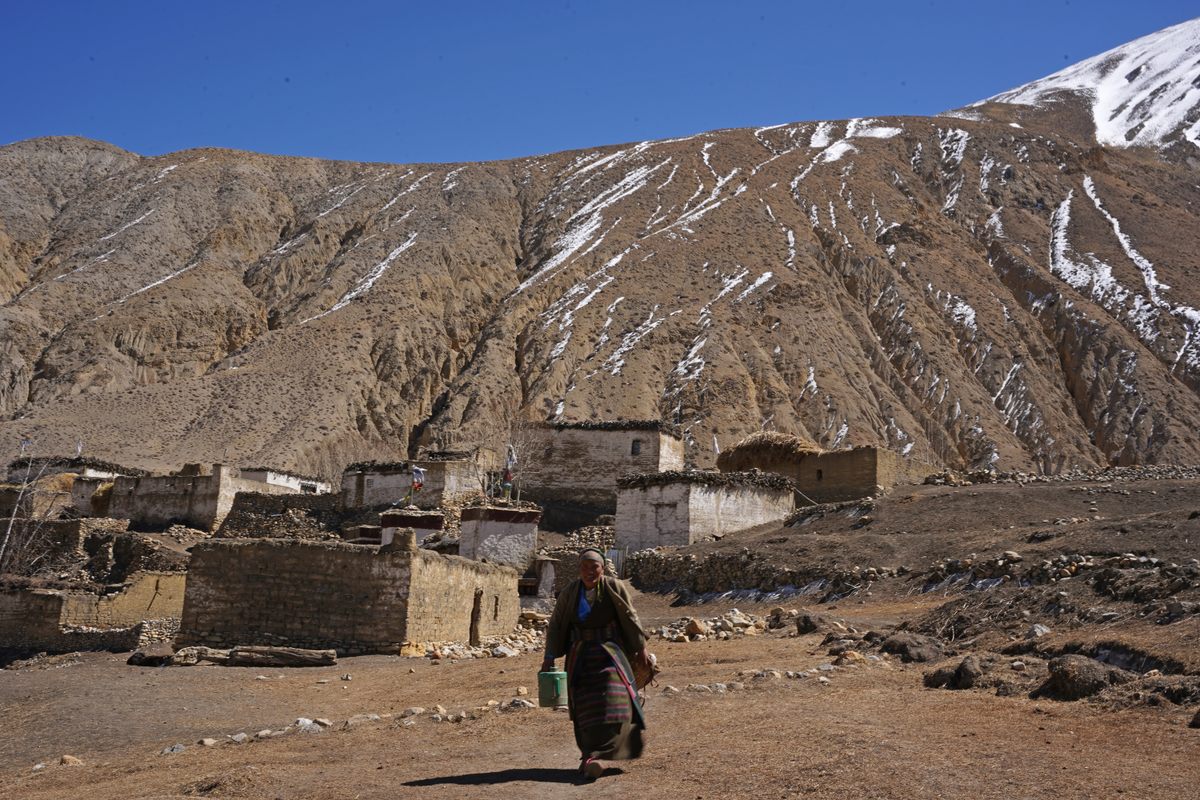 The rammed-earth technique used to construct the Chhode monastery is common throughout Mustang. Across this rough land, people have erected Buddhist chortens, or small stupas atop hills, on pathways leading into villages and even inside caves, in part to ward off evils that would do them harm, and the Loba people, the inhabitants of the region, have also built and lived in rammed earth houses enclosed for centuries.
This traditional building method "compresses locally available clay, sand, gravel, and some cement into vertical molds to construct walls. The materials are locally available and are cheap and have provided insulation in the cold and harsh region for centuries," says Neel Kamal Chapagain, an archaeologist and heritage professional from Nepal. "It is perfect for the Himalayan environment."
But data shows storms and rainfall have increased in intensity across the region in recent years. The unpredictability of the rainfall combined with the rising temperatures presents a constant threat to these structures. "More rain here also means the rammed earth gets saturated. Roofs begin to leak. Rising damp pulls moisture from the wet ground up into the walls," Chapagain explains.
The locals face a painful choice: earning their livelihoods by constructing concrete structures or salvaging their ancient culture. With road access and cheaper construction costs, many inhabitants are already rebuilding and repairing their dwellings using cement which is imported from China.
Chapagain argues that if rammed earth buildings are replaced by the concrete-frame structures already multiplying wherever there are roads, Mustang will have lost an important part of its heritage. Besides, study shows that when combined with traditional earthen architecture, cement disintegrates and cracks rapidly due to the difference in temperature between day and night, winter and summer.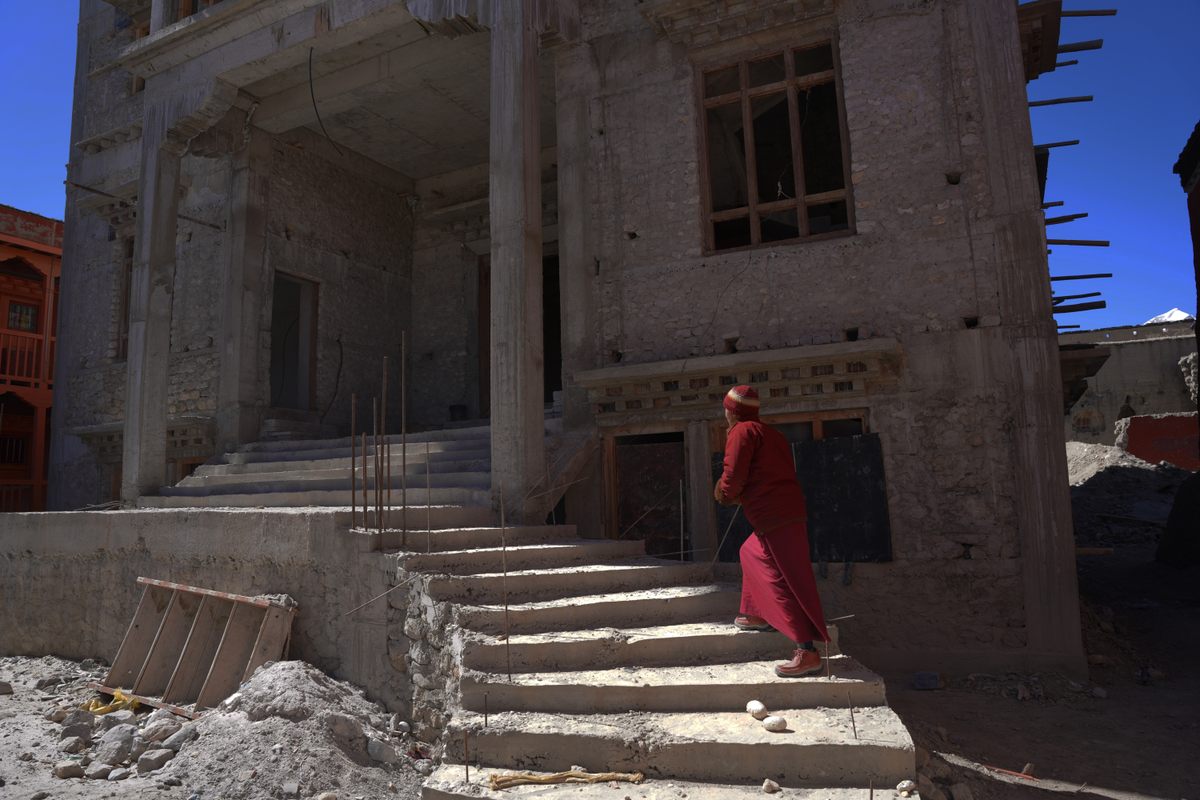 The roads that bring concrete may also lead to rapid population decline, as many young Nepalis living in Upper Mustang pursue opportunities to enhance their economic prospects in the region's cities. "Another major factor contributing to the culture erosion here is the out-migration of youths," says Bruce Moore, the senior program director of American Himalayan Foundation (AHF) a US-based nonprofit that helps preserve Himalayan culture. "If you don't have people of a culture within an area, the culture disappears. Without youth, it is not possible to bring attention to these heritages."
When AHF first visited this hinterland of Tibetan culture, the-then king appealed for assistance restoring the soul of the ancient kingdom, starting with its religious buildings and schools. The restoration stirred a cultural renaissance, says Moore. Long-abandoned festivals like Tiji and Yartung have been successfully revived, elaborate wall paintings are again fit for worship, and monasteries are flourishing.
Over the last 20 years, the foundation has trained more than 100 Indigenous carpenters and artisans from Lo Manthang, a rural municipality bordering Tibet, who have brought the three major monasteries within the walled city back to life. They hope these craftspeople will manage the monasteries' upkeep in the decades to come, but that will become an increasing challenge, says Moore. "We can see a direct climate change effect here. It is a fact here."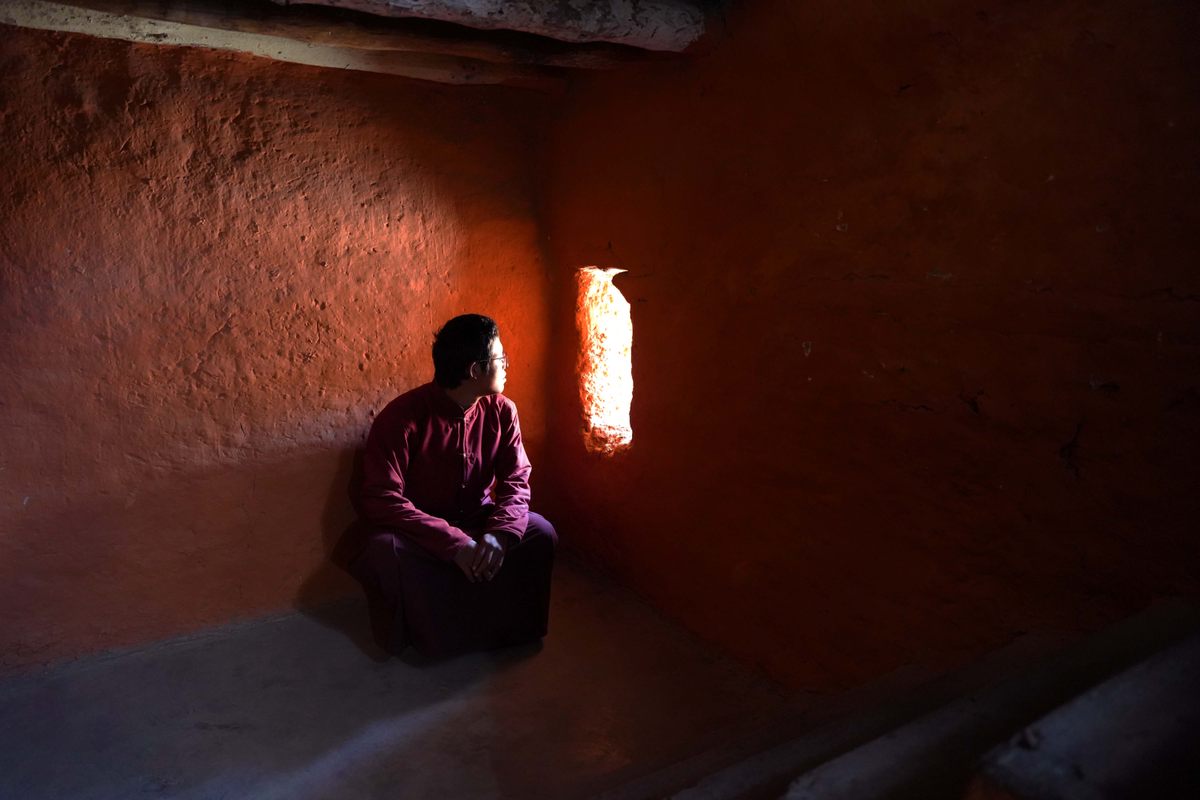 Loss of venerated traditions and tangible heritage can profoundly affect isolated and close-knit communities. "For the Buddhists, the paintings [in the monasteries] are embodiments of the gods themselves, and they can't worship a half-damaged idol. And also tourists who came to Mustang were interested in religion. So we felt, these are the things that need to be kept intact for the livelihood here besides their historical significance," says Moore.
As he tenderly runs a string of Buddhist prayer beads through his fingers, Rinjin says that customarily, it is the monastery that people come to for spiritual safety and well-being but now it appears as though the monastery needs protection from this faceless man-made enemy.

https://www.atlasobscura.com/articles/climate-change-nepal-architecture