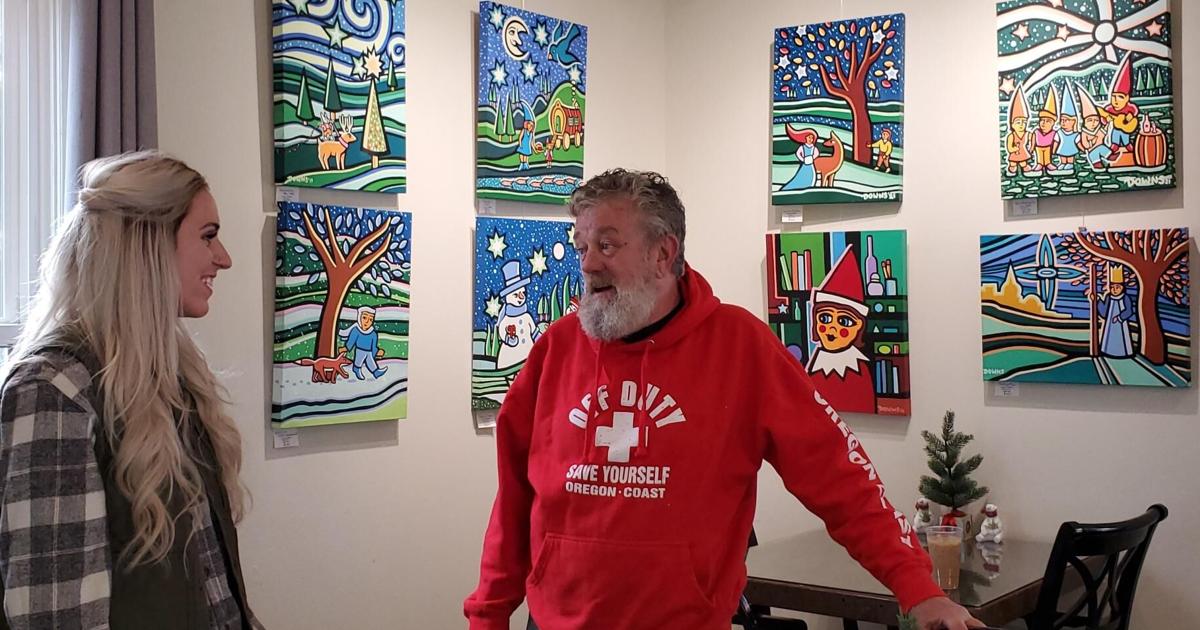 DALLAS — When Craig Downs found a new home in Dallas, it didn't take long to also find a home for his art.
Downs keeps a permanent rotation going at Benedetto Vineyards and features his popular tributes to the Day of the Dead and the holidays at Karma Coffee Bar and Bakery.
Karma owner Amanda Warren hosted an open house for Downs and his newest works on Dec. 5. She recalled falling in love with Downs' distinctive style after he became her first featured artist when she opened in 2019. Two of her three purchases were commissioned works — one of her dog and other of the coffee shop itself.
"He's so into the Day of the Dead stuff. It's just so pretty and interesting, I love all the colors that come with it, how bright his art is," Warren said. "A lot of times, especially during Christmas it's nice to see those really bright colors and the happy likes from customers."
Downs has been perfecting his style for 35 years, most of them in his hometown of St. Louis. While he doesn't have a name for his style, he said when people see his art, they know it's his.
"Whether you like it or not, that doesn't matter. You look and go, 'Oh, Craig did that.' Then, I feel I've accomplished something," Downs said.
Downs, 61, said he still has a huge fan base in St. Louis, with murals that have appeared on buildings, billboards and even a food truck. He developed his style, with its nod to his favorite artist Vincent van Gogh, with dark lines and swirly colors, after a failed attempt at a music career.
"When I was young I worked for record stores. I used their displays. Design got me started. Played music also. When I realized I couldn't make the cover of Rolling Stone as a musician, I figured I could someday make Time Magazine's artist of the year," Downs said. "So, I really took my painting more serious."
His art's popularity grew internationally after living eight years in Mexico.
It was there he met his partner, sculptor Candice Fulton. When they were ready to head back to the states, neither wanted to go back to their hometowns, St. Louis for him and Seattle for her. So, while conducting a search for a permanent homestead, they stayed in an Airbnb in Dallas and discovered they needed look no further.
While Downs' art caught on among buyers, it failed to catch the eye of most big galleries due to a bias against his being self-taught.
"I don't have a degree. A lot of big galleries won't have you. The first thing they ask is where did you study, where did you go to school? I tell them I'm self-taught, they're automatically turned off. They can't promote you as a Harvard graduate," Downs said.
He added while galleries have a good mailing list of buyers with deep pockets, they also end up getting a bigger piece of the take, up to 50 percent.
"So, if you want $400 for a painting, you have to price it at $800 or $900. So, that's kind of depressing to me, because I want people to be able to afford my art," he said.
So, he's found a home for his art in coffee houses and restaurants. He added while introducing his art to a new location can be a challenge, it has caught on locally. His latest projects team with Fulton to create Wall Together Now. It grew into a community involvement and team building exercise. Two of the "wall of art" projects were featured during the last Krazy Dayz in Dallas. More than 200 youth filled in 4-foot by 8-foot sheets of plywood, essentially painting by numbers. The finished works went to Lyle and Whitworth elementary schools where they now hang in the gymnasiums.
"They were so popular, we want to do four at next year's Krazy Dayz," Downs said.
In the meantime, Downs paints every day, usually never without a lack of inspiration for the next image.
"There's no creative block. I've got five paintings going at the same time. (When) I get bored with one, I just go on to the next one," he said.
Downs said while he's shown his art around the region, he's found a permanent home at Benedetto Vineyards, located at 14020 Orchard Knob Road where the owners Nick and Lisa Marshall fell in love with it. They even commissioned his art for a label on their new sparkling wine bottle, which ended up winning a bronze medal.
"They don't want anybody else," Downs said. "They're happy, I'm happy."
https://www.polkio.com/news/st-louis-painter-finds-new-home-for-his-signature-art-in-dallas/article_252edcc2-57c2-11ec-9c45-7bd78623e853.html