sofi stadium: centerpiece of california's hollywood park
this sunday, super bowl LVI will be held in california's hollywood park in inglewood, in the so-called 'SoFi stadium' designed by HKS. the open-air stadium now stands as the first indoor-outdoor stadium ever constructed and is the largest stadium in the NFL, covering 3.1 million square feet.
hollywood park is a world-class sports and entertainment destination being built by los angeles rams owner / chairman E. stanley kroenke. the centerpiece of the development, SoFi stadium is the new home for the los angeles rams and los angeles chargers. while the stadium opened in september 2020 — its first event on september 13th — it will be spotlighted this weekend as the super bowl LVI venue, before hosting the opening and closing ceremonies of the 2028 olympic games.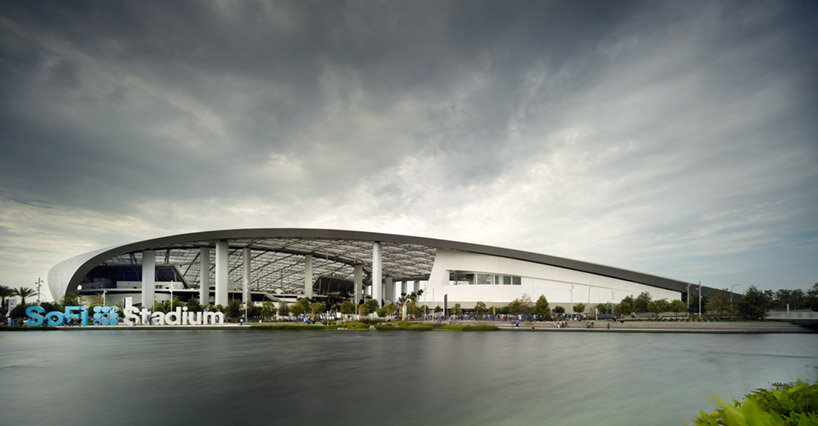 images © nic lehoux
site of the super bowl and the 2023 olympic ceremonies
SoFi stadium will host a variety of sports and entertainment events throughout the year, hosting super bowl LVI in february 2022, the college football national championship game in 2023, and the opening and closing ceremonies of the 2028 olympic games.
HKS (see more here) designs its open-air SoFi stadium — site of the upcoming super bowl — with a seating capacity of around 70,000, though it can expand to 100,000. it features 260 luxury suites and more than 13,000 premium seats. the surrounding site of hollywood park is a privately funded development that is 3.5 times the size of disneyland park and twice as big as vatican city. alongside the stadium, under the same canopy, is a 2.5-acre open-air plaza, american airlines plaza, and the 6,000-seat 'youtube theater.'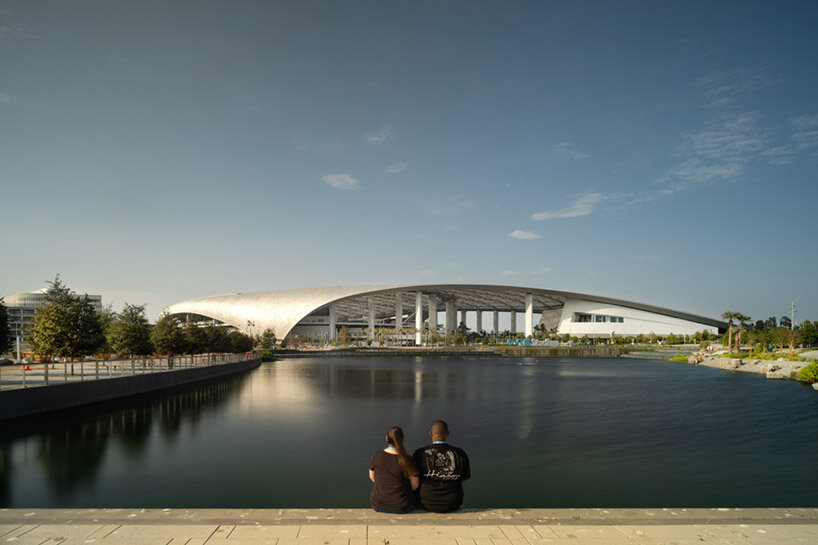 building the design by hks
the event level of the SoFi stadium is embedded 100 feet below grade level. to accomplish this, over seven million cubic yards of dirt were excavated from the stadium bowl alone and re-distributed around the site. nearly 100,000 tons of steel and cable were installed and 144,000 cubic yards of concrete were used to construct SoFi stadium.
at its peak, SoFi stadium, had up to 3,500 construction workers on-site daily, with inglewood residents being given priority placement. since construction began, more than 17,000 workers have contributed to the project and more than 18 million worker hours have been completed.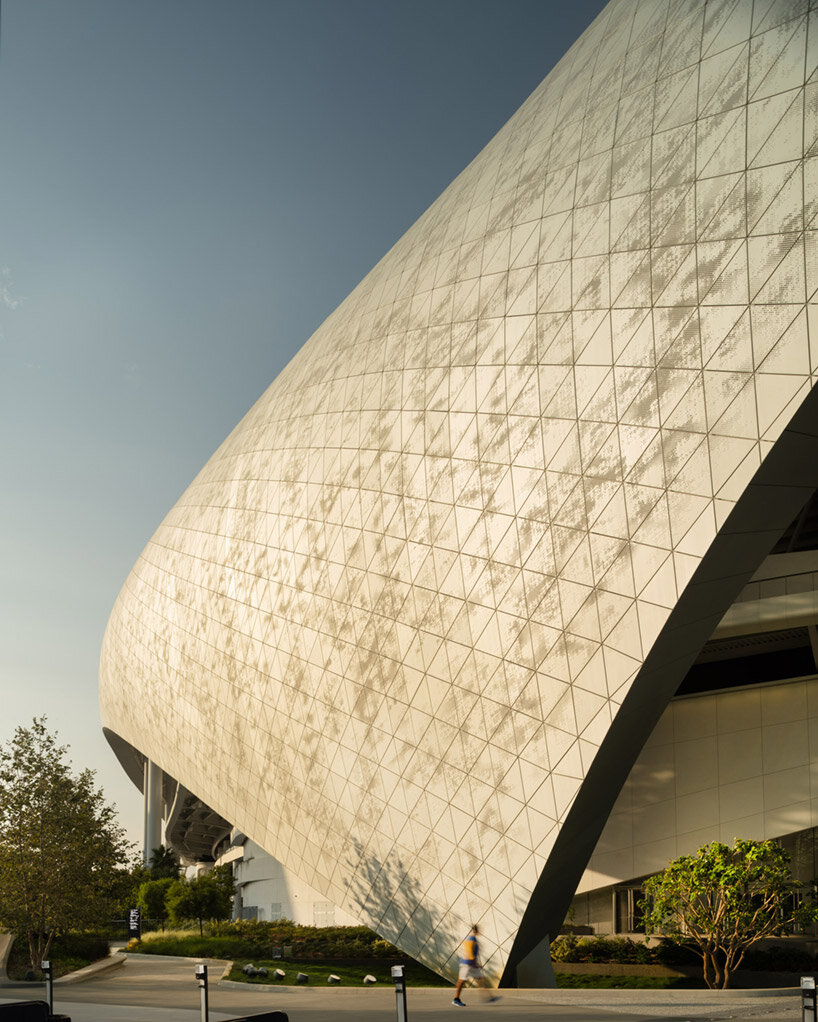 the ETFE ROOF CANOPY
the ETFE roof canopy is comprised of three parts: the structural steel shell, including the compression ring, the cable net system, and the ETFE (ethylene tetrafluoroethylene), a lightweight and transparent plastic that will act as the roof and cover the entire structure. the compression ring will be locked into place and the etfe roof canopy system will rest on blade columns to complete the structure.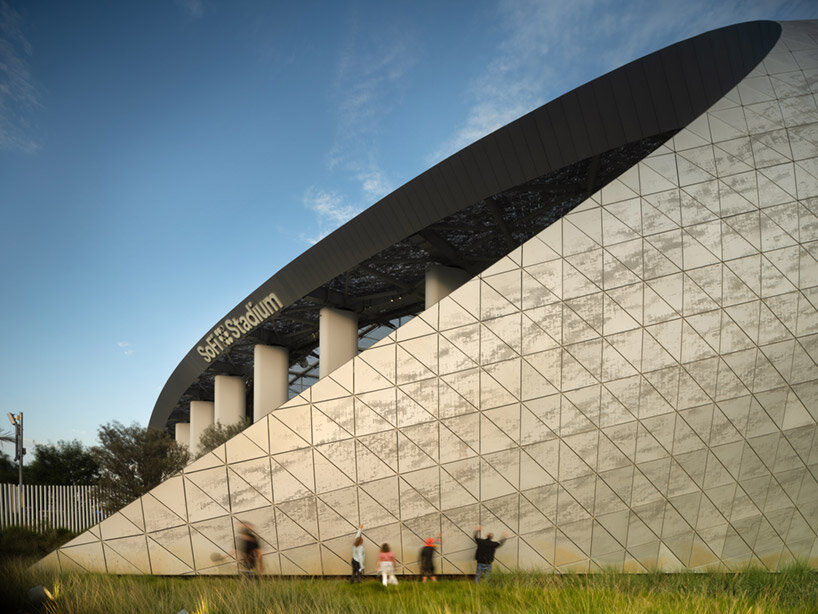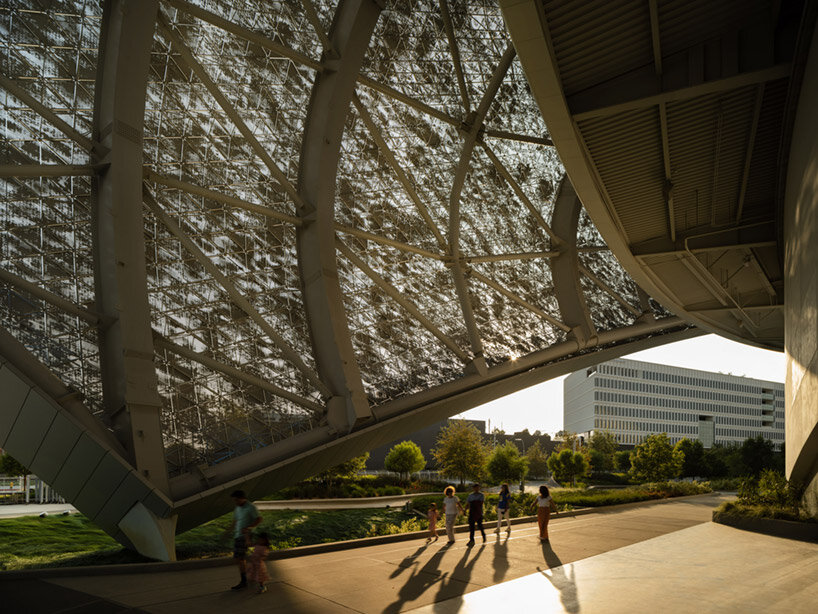 discover the architecture of SoFi stadium: site of this sunday's super bowl LVI