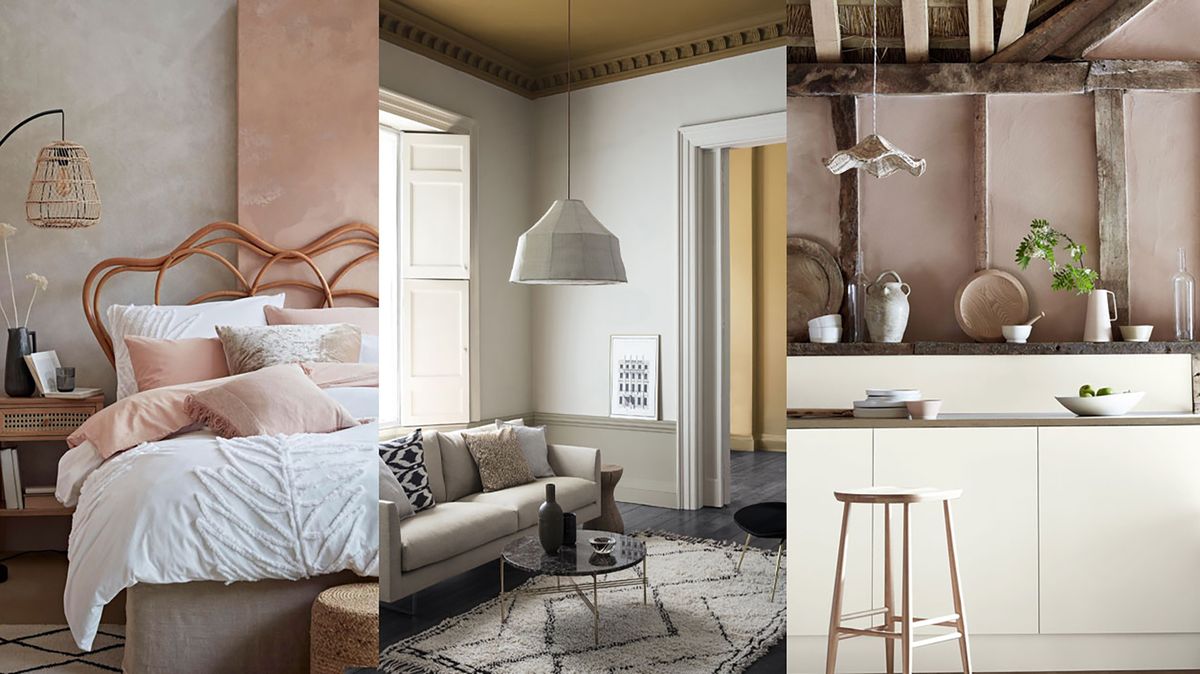 Finding the right paint finishes for your home can feel like a daunting task. From eggshell, matte, satin and gloss to milk, distemper, chalk and limewash, there is a seemingly endless list of paint finishes, each with their own characteristics and recommended usage.
Paint finishes can have just as much of an impact on a room as the color, so it is important to make an informed decision when trying to bring your paint ideas to life. As a general rule, matte paints are best for low-traffic areas that are unlikely to get scuffed or marked while glosses are more durable and better for high-traffic rooms or those that are exposed to high-levels of moisture and humidity.
'If you're completing the job yourself, consider a water-based finish as these are easy-to-apply, quick drying and they have very little odor,' recommends Ruth Mottershead, creative director at Little Greene. You can get water-based paints in a wide range of finishes which means you are not limited in the look that your paint will achieve.
Paint finishes: a guide to paint finish types
Choosing the right paint finishes for your home depends on what you are painting and where it is located. We all know the difference between interior and exterior paint, however, beyond that it feels a lot more complicated, especially when each brand appears to have their own names for each finish.
The different types of paint finishes are: 
Flat paint finishes, which have the least shine;
Matte paint finishes; these are more durable than flat as they have a little more sheen;
Eggshell paint finishes, which are the most common for interiors;
Satin, velvet and silk paint finishes, which are ideal for high-traffic rooms;
Gloss paint finishes, which are good for bathrooms, kitchens and high-traffic details;
Milk and chalk paint finishes – best for upcycling projects;
Limewash, clay and distemper – popular heritage paint finishes;
Specialist textural paint finishes which can create a bold feature wall;
Exterior paint finishes that withstand the weather while retaining their look.
'When choosing paint, matte and silk are best for walls. Matte tends to offer a more chalky appearance while silk has a slight sheen and is wipeable,' says Justyna Korczynska, senior designer at Crown. 'Gloss and satin or eggshell are good choices for woodwork, but the paint finish you desire is down to taste. Gloss is more of a statement, satin or eggshell more subtle.'
Once you've selected the best paint finish for your space, be sure to find out how to paint a wall to ensure you achieve professional results.
While there is no universal classification for gloss paints, many companies use a percentage system to reflect the amount of sheen produced by their paint finishes so that you can get a better understanding of the look it creates: the higher the percentage, the glossier the finish. 
Flat paint finishes – for walls, ceilings and low-traffic areas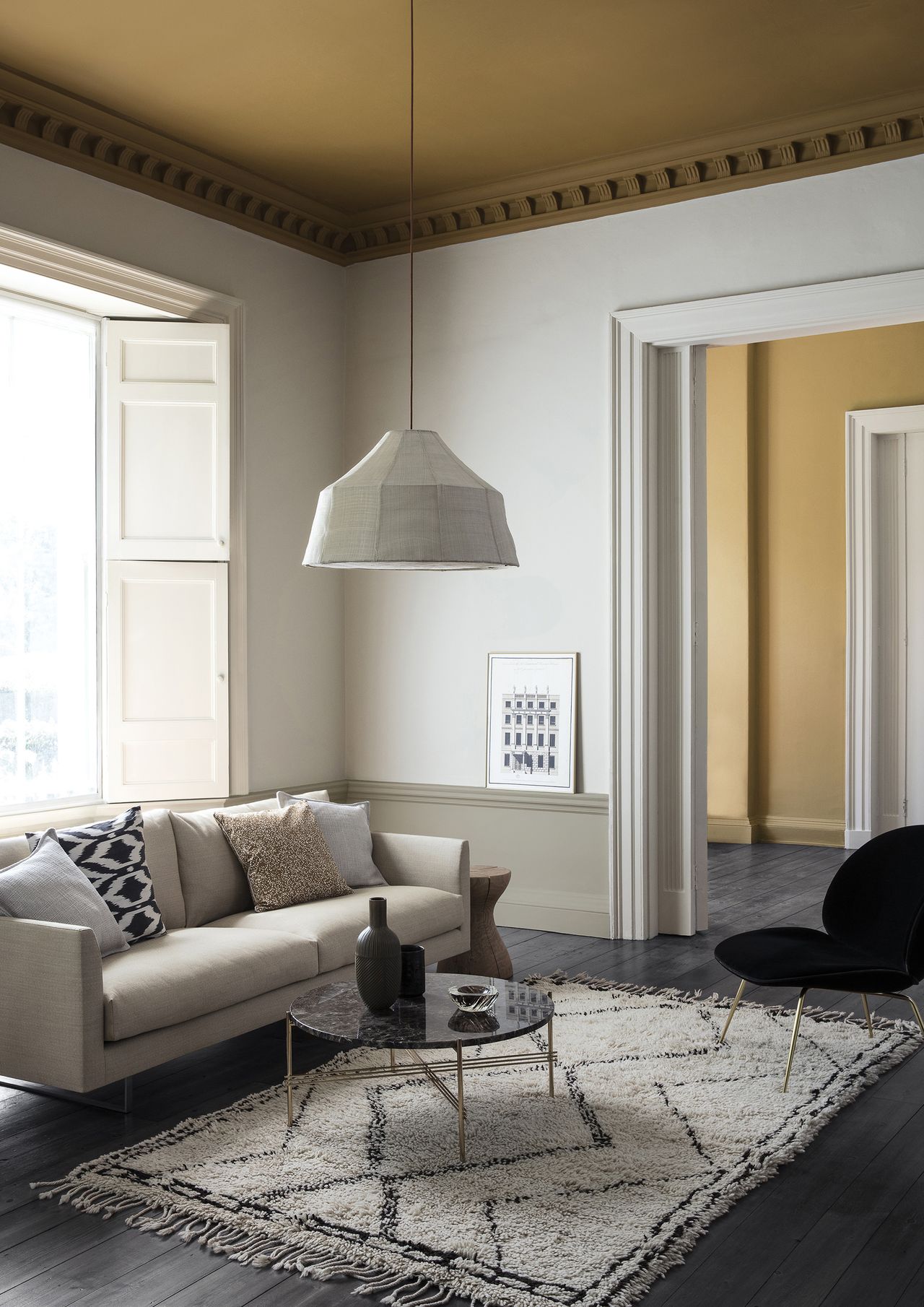 With the lowest level of sheen (between 0 and 3 per cent), flat paint finishes, also known as ultra flat, have a smooth appearance and little to no reflective qualities. Since flat paint doesn't reflect light, it is a great choice for walls that feature imperfections which would be highlighted by paint finishes with more sheen. 
Despite being forgiving of imperfections already present in the wall, flat paint finishes are very unforgiving of marks and stains. As such, flat paint finishes are best suited to ceiling ideas and low-traffic areas where they will be able to retain their flawless appearance for longer.
Interior paint is sometimes called flat matte – this means it will have very little sheen. For example, Farrow & Ball's flat matte emulsion has a sheen level of just two per cent. 
Matte paint finishes for walls and ceilings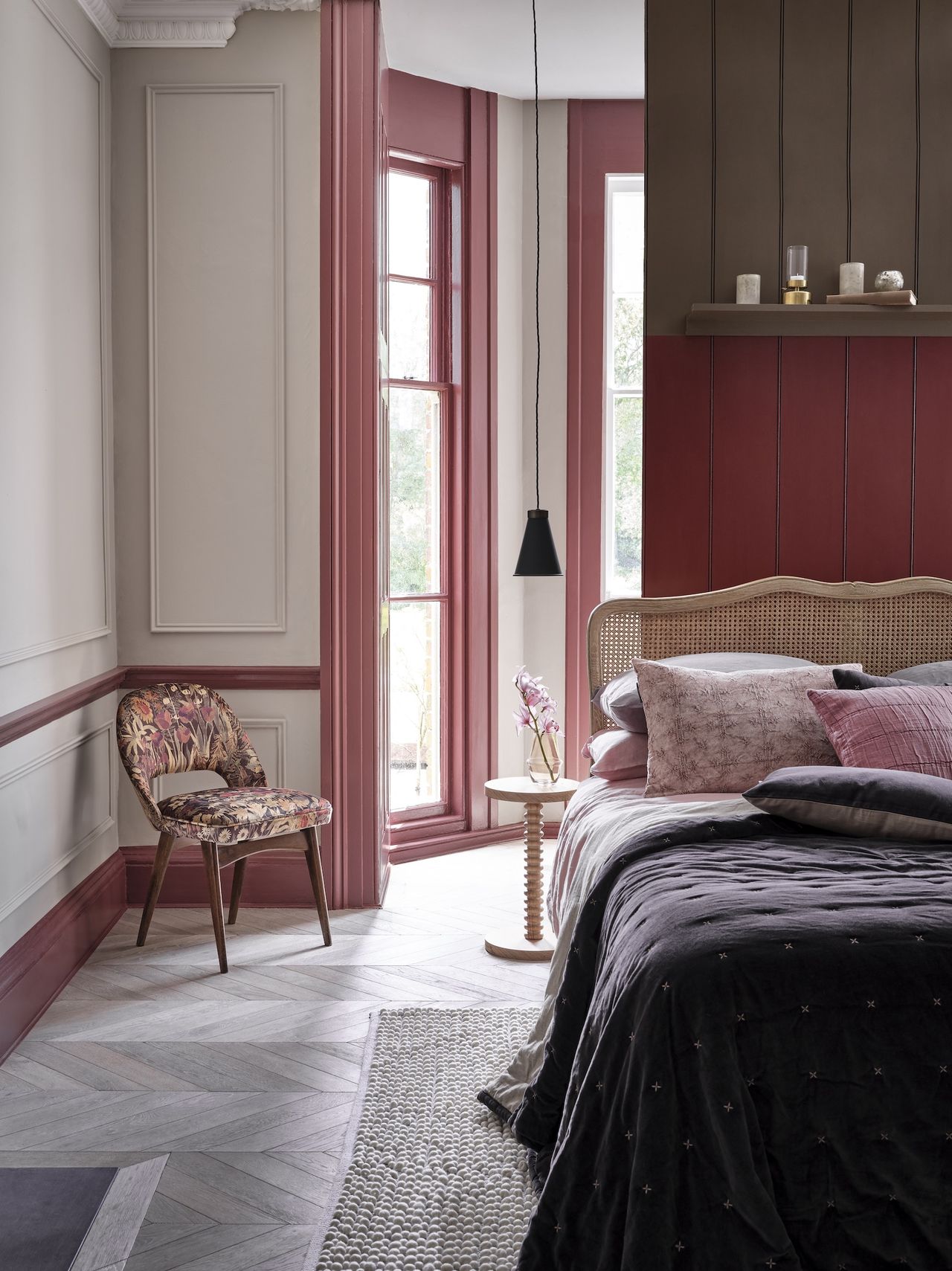 Matte paint finishes are one of the most popular choices for interior walls and ceilings. Offering a very subtle sheen (between three and 10 per cent), it still produces very little reflection but improves upon the durability of flat paint. Matte paint's slightly velvety finish makes it particularly great for living room paint ideas, dining room color ideas and bedroom color ideas.
'Sheen level, like color, is really a personal preference. I love a luxurious matte finish, it appears especially rich and sumptuous in darker shades, as matte paint finishes afford a real depth to the shades due to the subtle texture of its chalky surface,' says Ruth Mottershead.
Eggshell paint finishes for high-traffic areas and exteriors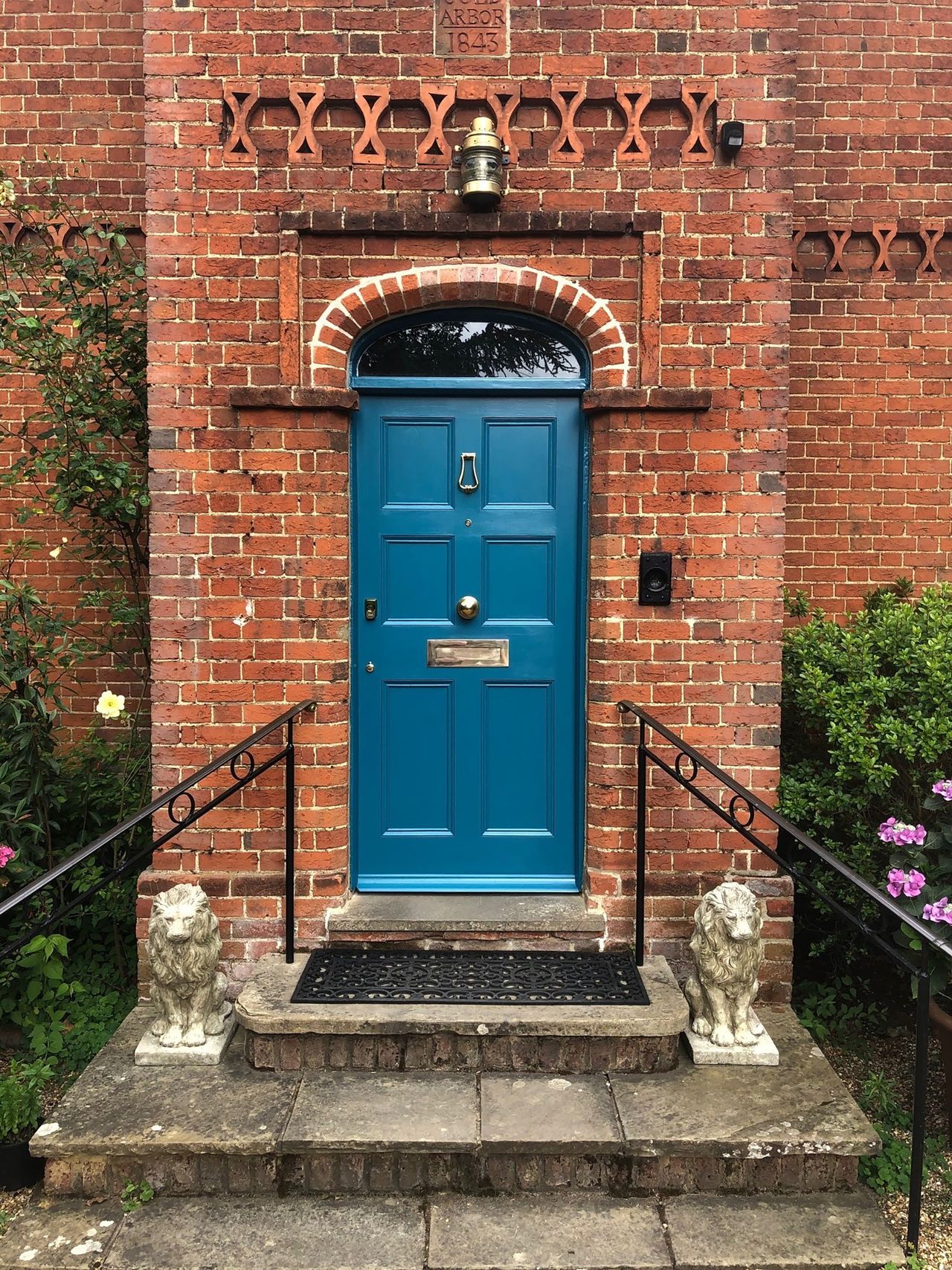 Eggshell has more of a sheen than flat or matte but much less than gloss. With a sheen percentage of between 10 and 25, eggshell paint finishes are a good all-round choice . 
'Because of its durability, eggshell is perfect for higher traffic areas like a lounge or hallway. Small houses would do better with this eggshell paint finishes as people and objects often come into contact with walls where space is limited,' recommends Lyz Igwe, expert at Dowsing & Reynolds. 'Also if you have children's sticky hands to contend with, then also use eggshell paint almost everywhere.' 
However, you must be cautious when using eggshell as part of bathroom paint ideas  as it will peel when it comes into contact with moisture and humidity. There are two exceptions to this rule though. You can use Acrylic Eggshell in a bathroom as it includes a tough acrylic resin that will repel the moisture, however it does have a glossier finish than straight eggshell. Acrylic Eggshell is extremely hardwearing and resistant to condensation, it's even used in commercial kitchens. There are also some specially formulated bathroom eggshell paints that have been designed to withstand the moisture and humidity of this space while still retaining a more matte look. 
Satin, velvet and silk paint finishes for cabinetry and banisters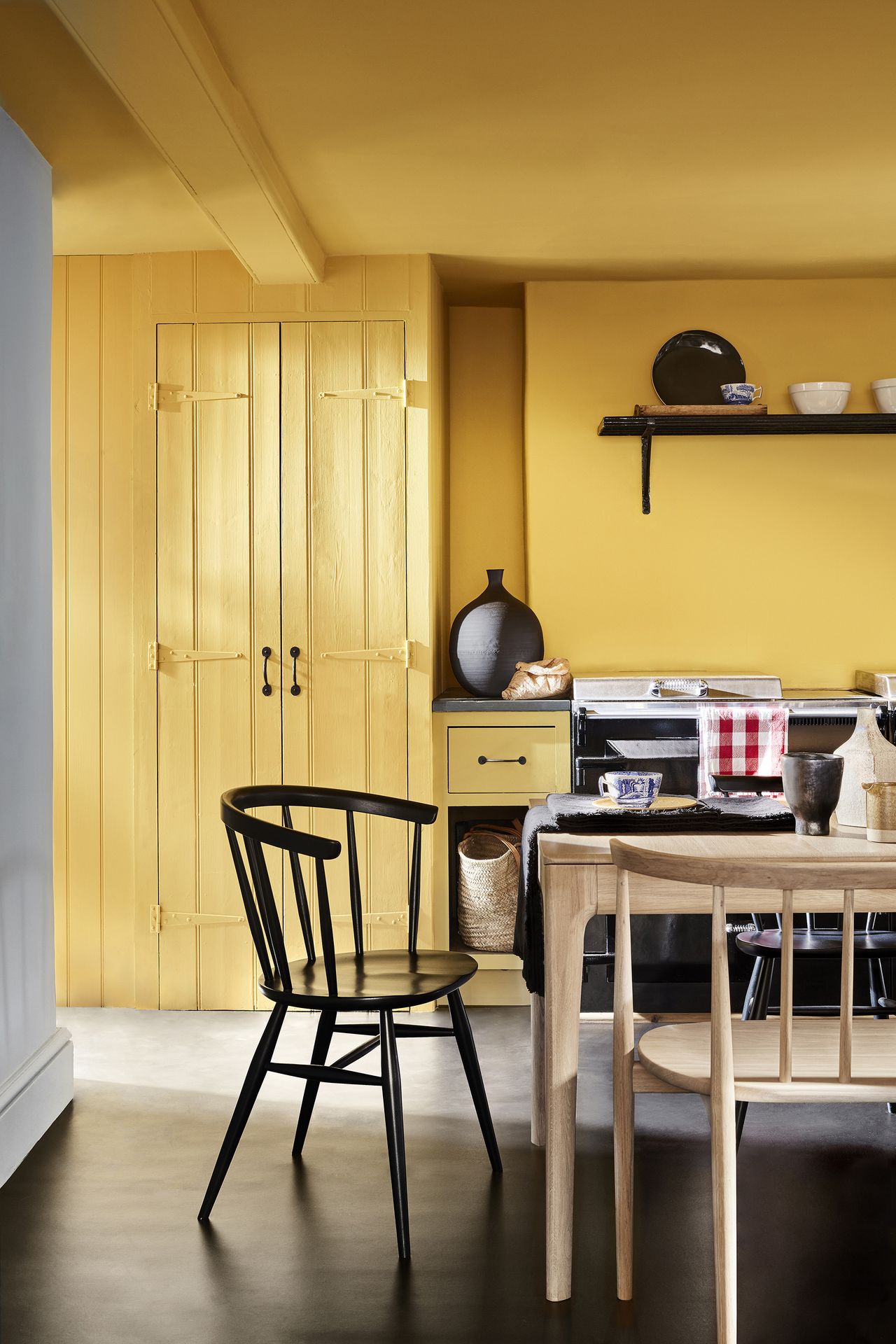 Named after luxuriously soft fabrics, satin, velvet and silk paints are very similar paint finishes. Described as mid-sheen paints, they offer a midpoint between the flat matte emulsions and the glossier paint finishes. Satin, velvet and silk paint have between 25 and 35 per cent sheen and are ideal for high-traffic areas that need a more durable paint but don't want the sleek finish of a gloss – they are perfect for painting kitchen cabinets.
If you are battling gloominess in your space, then a silk finish is a great choice as it will reflect any light back into the room, instantly brightening the space. Opt for lighter paint shades too as this will further increase the paint's reflective qualities.
Satin is particularly good for low moisture bathrooms and is a great choice when looking for paint finishes for your powder room ideas. However, if you are partial to a hot shower that generates a lot of steam in the bathroom, consider going for a higher-gloss finish. If you are painting a bathroom, it is also worth seeking out bathroom formulas or top coats that will help your paint to withstand the moisture levels too.
Gloss paint finishes for details, feature walls and bathrooms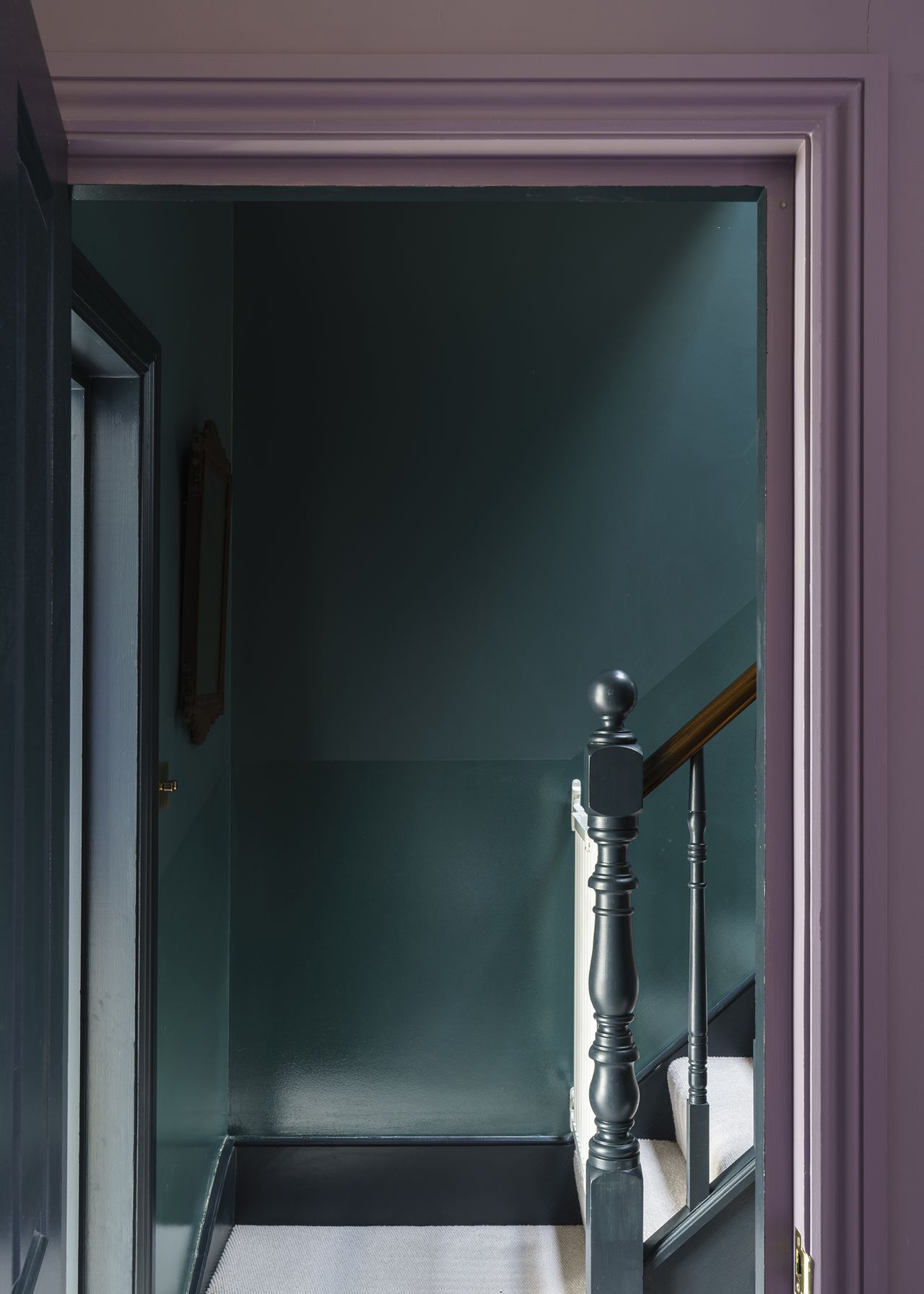 As its name suggests, gloss paint has a glossy finish. Unlike its matte and eggshell counterparts, gloss paint has a high-sheen and a reflective quality, bouncing light off the surface and back into the space.
Due to its reflective quality, it is best used sparingly to highlight details in the room such as mouldings or rails,  or to offer added durability to high-traffic details such as skirting boards, balustrades and painted kitchen cabinet ideas.
If you are looking for ways to increase natural light, try painting interior window frames with gloss paint as this will help to reflect more light into the room.
Gloss paint comes in several levels of sheen:
Semi-gloss is the least glossy option with between 35 and 60 per cent sheen. While it still has some sheen, it combines the best of both worlds with the softer appearance of flat paint with the hardwearing nature of gloss.
Gloss paint is a popular choice for bathrooms and other high-traffic areas due to its durability and washability. With between 60 and 85 per cent sheen it will, however,  highlight defects, pits and imperfections on a surface.
High or full gloss (typically more than 85 per cent sheen) has an almost glass-like appearance and is exceptionally reflective. This can be disconcerting when used on large, unbroken expanses of walls and is better suited for smaller detailing. 
Gloss paint is also praised for its durability, highly scrub, stain and moisture resistant, making it a great choice for bathroom paint ideas and kitchens.
Chalk paint finishes for furniture upcycling projects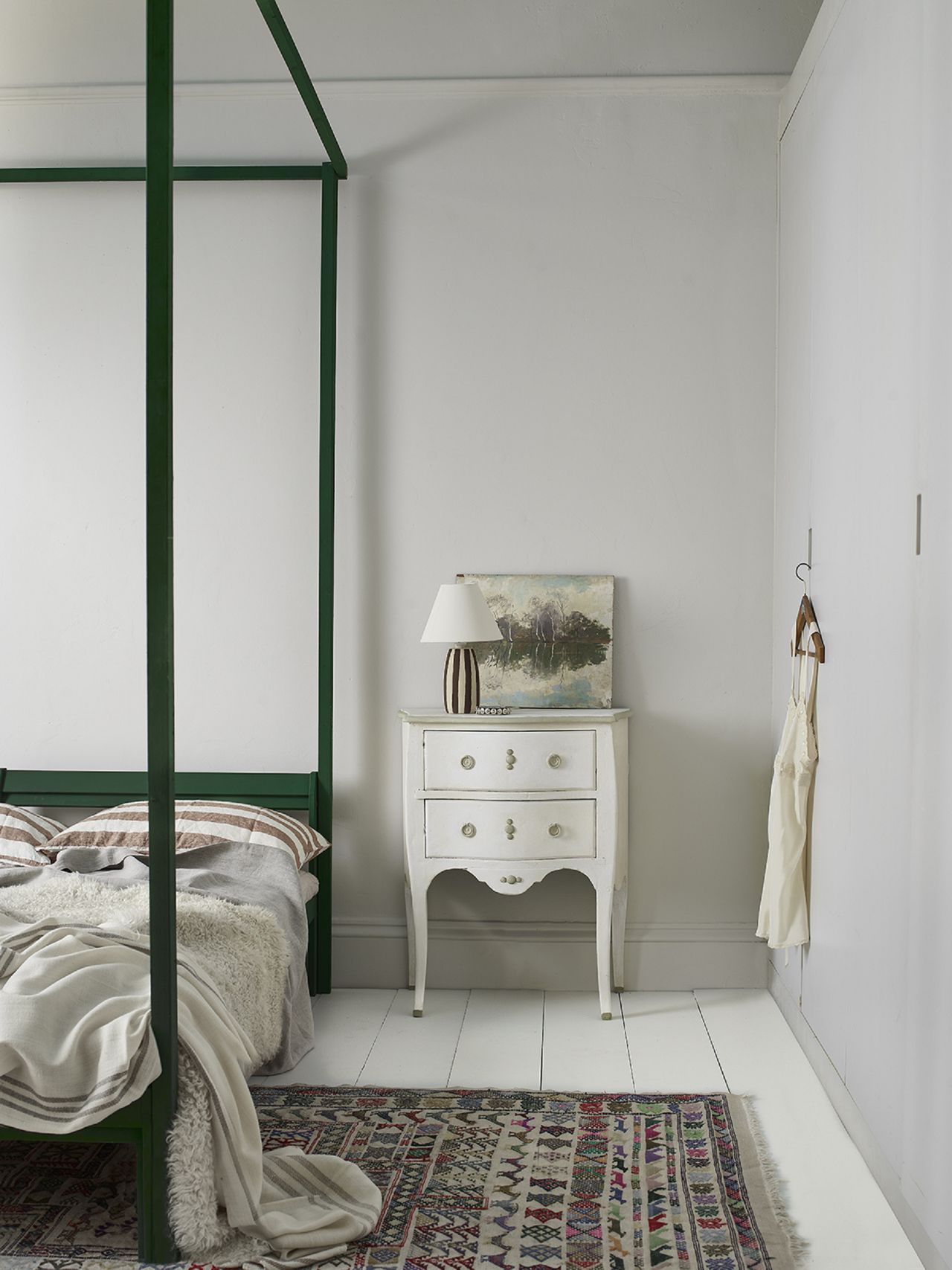 Chalk paint is most commonly used in furniture upcycling projects. 'People often think it's called chalk paint because chalk is a key ingredient, but it's actually because of how the paint looks. Its luxurious, textured finish and the depth of pigment gives upcycling projects a high-end feel,' says Annie Sloan, founder of paint company Annie Sloan. 'Chalk paint dries to a velvety matte finish, and if sealed with either Wax or Lacquer, depending on the look you prefer, will give you a really hardwearing finish.' 
Another benefit of using chalk paint is that it can be applied to practically any surface without the need for priming or sanding. 'Eliminating the hassle of prepping furniture to paint was a complete game-changer, enabling people to restore and re-love their existing furniture in next to no time,' continues Annie, 'You can create washes of colour, thick and textured paint, layered colours, or a smooth modern finish.'
Milk paint finishes for a hardwearing finish on DIY projects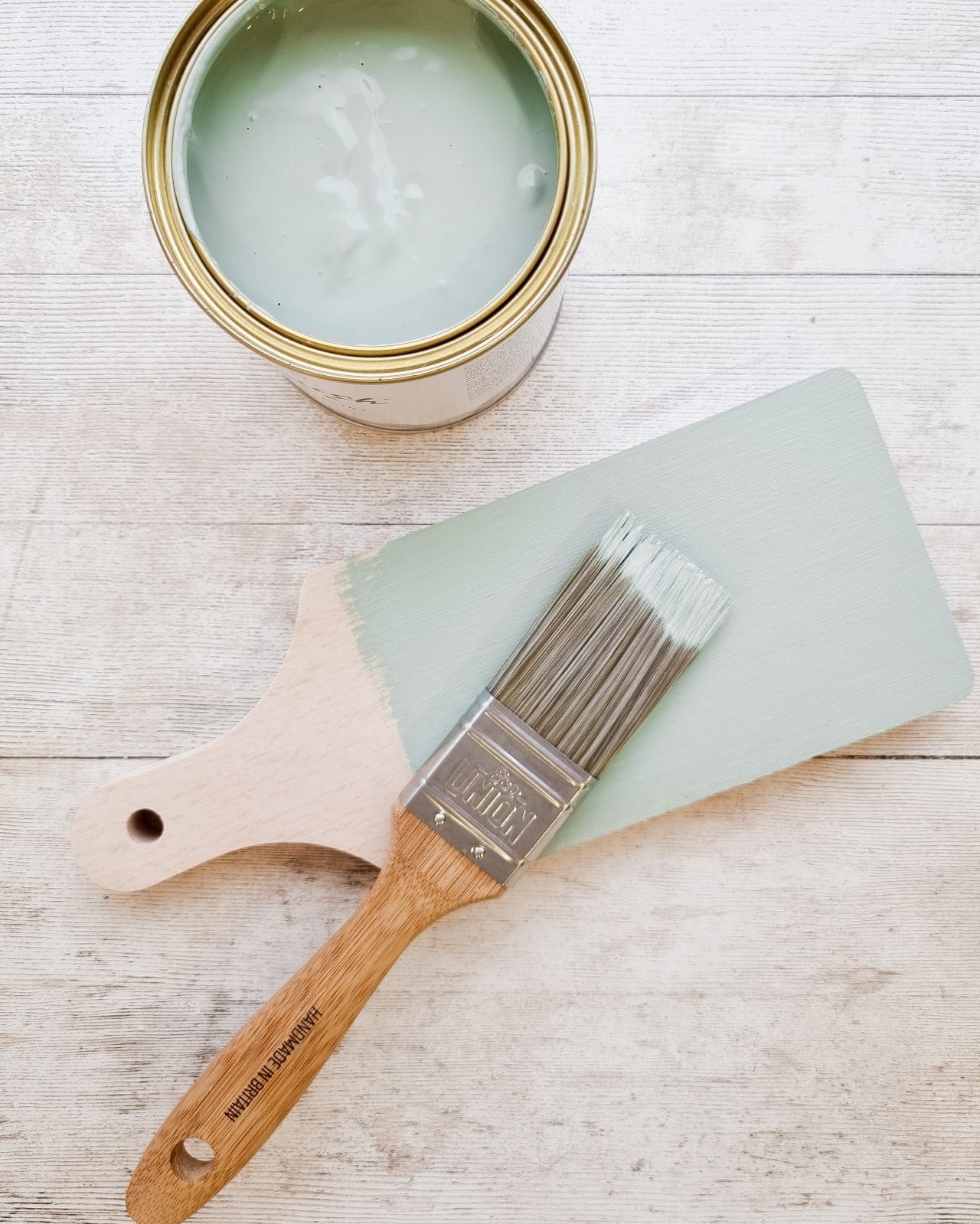 Unlike most other paints which are purchased as liquids, milk paint tends to be purchased as a powder. This powder is then mixed with water to create a liquid paint that can be applied to almost every surface from wood and walls to plasterboards, PVC, tiles, stone and plastics without the need for priming or undercoats. 
'Traditional powdered milk paints achieve a finish that is flat back to the grain and produces no brushstrokes,' explains Joe and Reece Daden-Tapp  of Cornish Milk Mineral Paint. 'The earth pigments used in the paints made the colours rich and authentic, too.'
However, due to the fact that it is predominantly water-based, milk paint requires curing. This process will take place naturally as the water evaporates from the paint and it slowly hardens. Curing typically takes between 20 and 30 days, though will depend on the brand you purchase. You will need to avoid scuffing the paint during this time, but once cured, milk paint becomes scuff-resistant, waterproof and extremely durable.
Clay paint finishes for a soft look that's great for old homes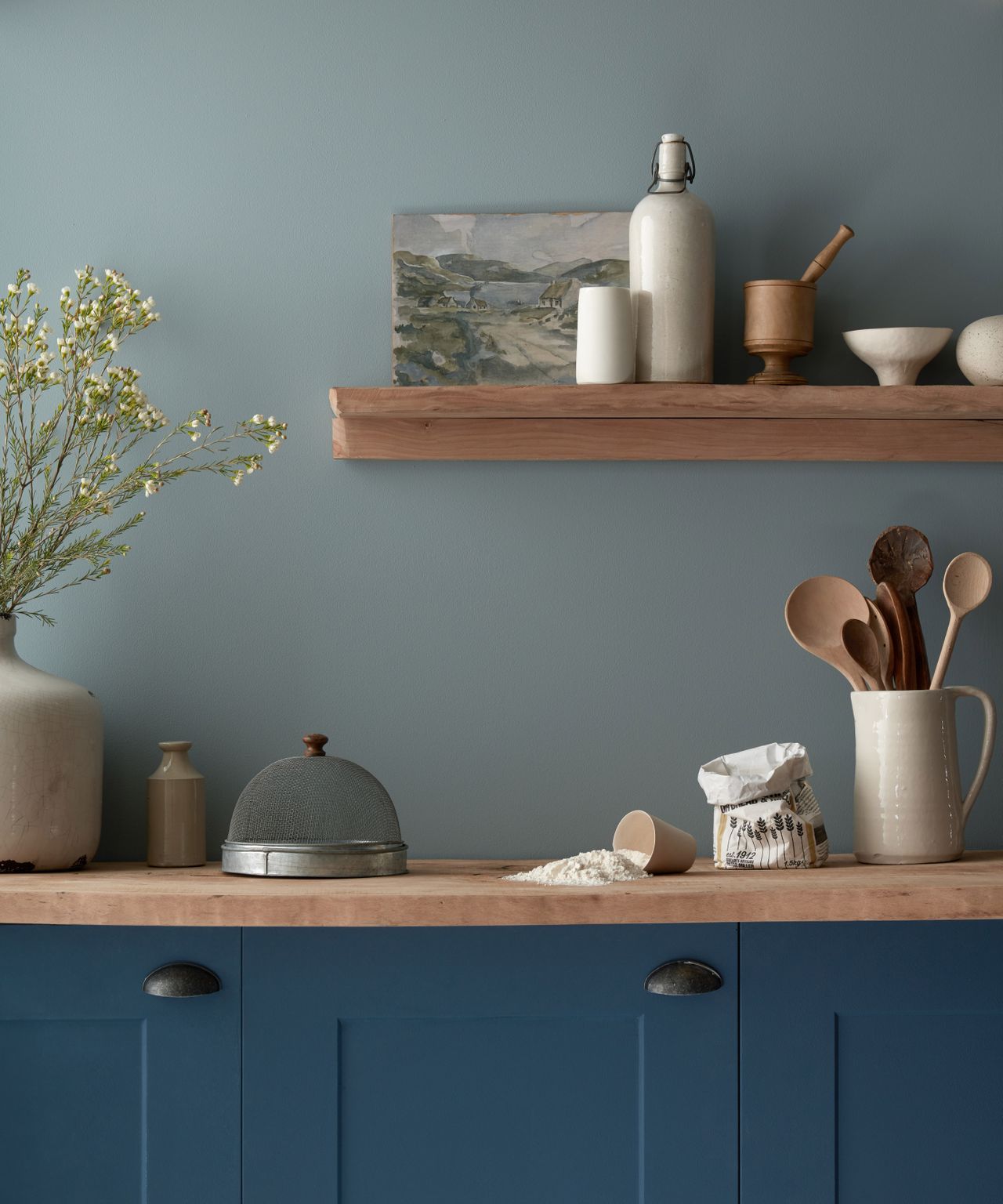 Clay paints are one of the most eco-friendly paints, offering a sustainable choice for painting your walls. However, its environmentally-friendly credentials don't come at the expense of quality. Clay paints offer good coverage, drying to a soft matte finish that adds a warmth to any interior scheme.
Clay paints are also a great choice for period homes which often benefit from a more breathable paint. 'The clay content absorbs moisture, helping to regulate the internal humidity of a building so it is ideal where condensation is a problem. It should not be used on damp walls though,' says Roger Hunt, Period Living's renovation expert and author of Old House Handbook. 'Clay paints can stain more easily than other types, so avoid using behind sinks or cookers.
Limewash paint finishes for a natural, rustic look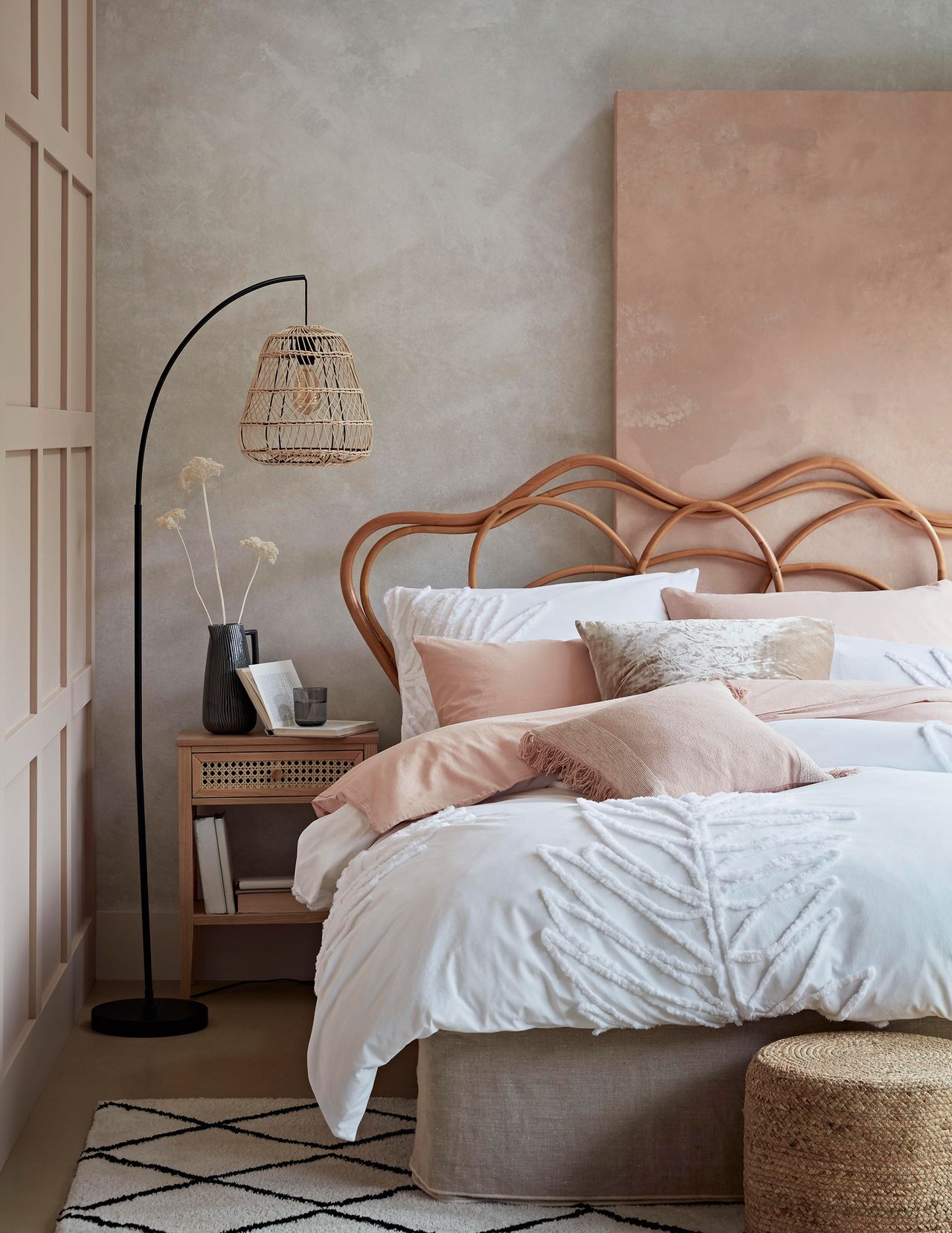 Limewash is a classic paint that has been used in homes for centuries. 'Made from lime and water, and available ready-made, it has a matte finish and can be coloured with natural pigments giving it an almost glowing look,' says Roger Hunt. 
Able to be used both inside and out, it is ideal for porous surfaces, such as brick, stone or lime plaster. 'Limewash has become one of the most popular paint finishes in recent years,' says Francesca Wezel, founder of Francesca's Paints. 'Not only is it easy to apply, but it also has a natural, raw quality that creates a velvety, mottled effect on walls, helping to bring depth and character to interiors.' 
Limewash is also commonly used as a breathable exterior paint, but it 'should not be used on non-porous surfaces such as cement renders, masonry paints and hard bricks,' advises Roger. If you are considering refreshing the outside of your home, it is also important that you know how to paint a house exterior to ensure you achieve a professional finish.
Distemper for older homes that need a breathable paint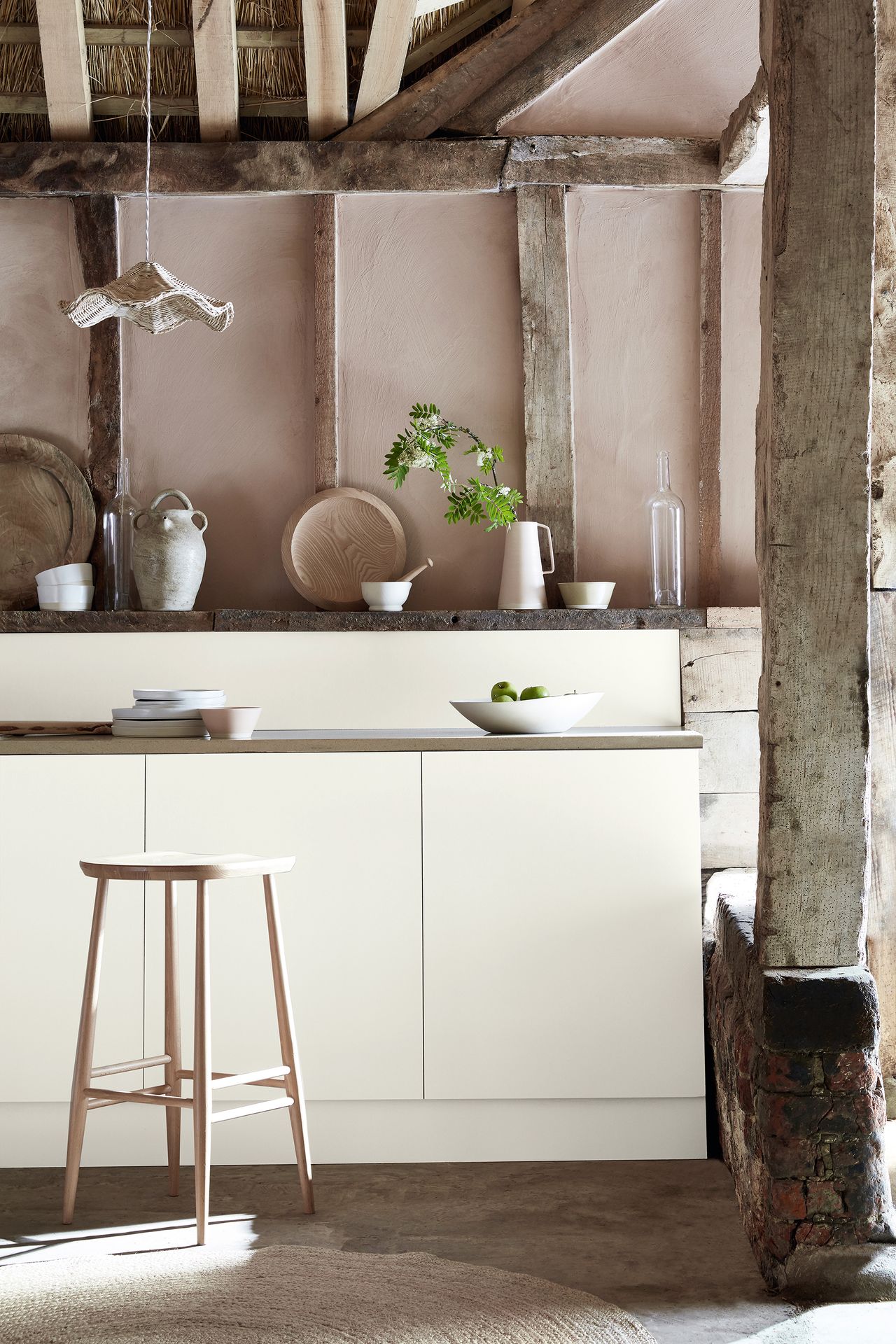 Distemper is a heritage interior paint and an early form of whitewash made of water, chalk, pigment and a bounding agent like egg or casein. Highly breathable, it is a great choice of paint for older properties and has a soft, powdery finish. However, it is worth noting that distemper is not particularly hardwearing, so is best avoided in high-traffic areas. 
'Distemper provides a soft, deep matte finish ideally suited to bedrooms, living rooms and dining areas . It is a high opacity, low odour, chalky matte finish, that is available in a wide choice of colors,' explains Ruth Mottershead. 'Distemper combines a softness of texture and purity of color perfectly suited to sensitive restorations of older buildings.'
Specialist paint finishes for feature walls and accent details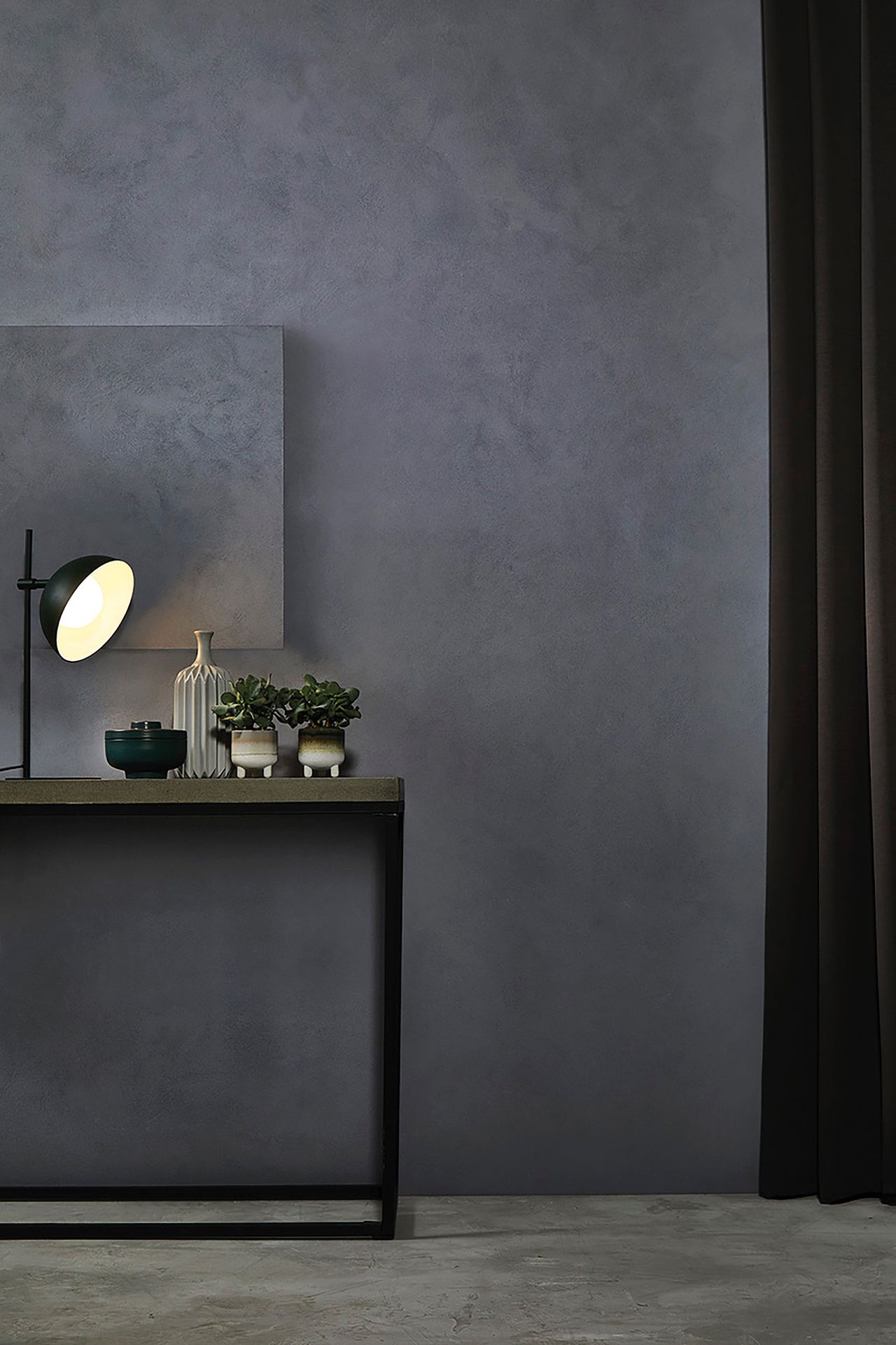 Of course, you aren't just limited to traditional paint finishes, there are lots of specialist paint finishes that will bring unique character to your home. From paints with glitter to add a touch of sparkle to your scheme, to metallic and suede emulsions that will certainly make a feature, there is a whole host of different options to create a statement in your home. 
'If you're not a fan of dark, bold colors, but want to add interest to the feature wall you can do it by adding a texture. Suede textured paint creates a soft brush stroke effect that subtly catches the light and creates an elegant tactile finish or you can add a bit of a luxurious boutique look to your feature wall by using a metallic paint.' says Justyna Korczynska. 'Textured paint finishes work well all over the wall or as stencils and patterns.
What is the best finish to use for exterior paint?
As a universal rule, eggshell is the best finish to use for exterior paint. Exterior eggshell combines the durability of gloss without highlighting imperfections in the exterior surface. When choosing exterior paint, it is key that it complements your backyard ideas and the subtle sheen of eggshell paint finishes will help it blend seamlessly into your garden design. 
There are a few exceptions to this rule, though. If you are looking to repaint a particular detail of your home's exterior, for example garden gate ideas or maybe front door ideas, you may prefer to opt for a more striking and durable gloss finish. 
What kind of paint do you use on high traffic areas?
Use paints with a sheen or gloss for high traffic areas of the home, as they are the most durable. Avoid matte or flat paint finishes which will quickly show wear.
When deciding on a paint for high-traffic rooms of the house, cleanable paint finishes are also vital. There are specific formulas that are cleanable, even while offering a matte finish, for example, the addition of powdered marble gives Mylands' marble matte emulsion a cleanable finish. 'The formula used to create a cleanable paint is more durable than that of regular paint, offering better resistance to everyday stains and scuffs,' explains Dominic Myland, CEO of Mylands. 'In terms of the quality of the finish, there should be no compromise when choosing a cleanable paint, the result should be rich in colour with a smooth, thick consistency.'
https://www.homesandgardens.com/interior-design/paint-finishes