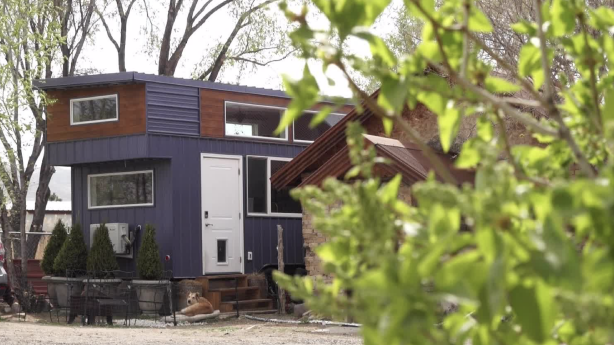 Raven James works and lives in this 320 square foot tiny home in Bluffdale. While tiny homes might be cheaper than an apartment, Utah tiny home owners struggle to find places to park the homes. (Ladd Egan, KSL-TV)
Estimated read time: 6-7 minutes
SALT LAKE CITY — It's got four wheels, costs about as much as a nice car, and lets you call anywhere home.
Living in a tiny home is an attractive option for many, as the average rent for a two-bedroom apartment in Utah has surged to $1,200 per month. But there's one big problem plaguing tiny home enthusiasts in Utah's hot housing market: where can they park?
Perks of a smaller space
Raven James decided tiny living was for her a little more than a year ago.
"It made a lot more sense to be, one, moveable and not locked into an area, so I can move if I have to with my job," she explained as we spoke in her tiny home's kitchen. "Then, two, something that I could afford every aspect of it and not live paycheck to paycheck."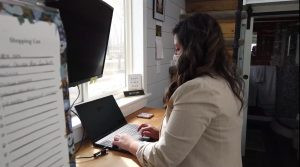 James had been living in an apartment. Traditional homeownership on her single-income salary seemed impossible. That's when she decided to go tiny. "It's significantly cheaper than a mortgage," she said.
In just 320 square feet, James works, cooks, lives and sleeps for a fraction of the price of a Salt Lake Valley apartment. She was able to find a private landowner in Bluffdale who would allow her to park on their land.
All her bills, including her car payment, now total around $1,300 per month.
That same affordability attracted Devin Davis to tiny home living.
"Not only is it affordable," he said, "it's energy-efficient and everything fits here."
Davis moved into his tiny home with his two kids about a year ago. "Even though this is a super small footprint of 255 square feet, my kids love to be here," he said.
Where to park?
Davis ran into problems Raven did not: finding somewhere to park his home. After his arrangement in Salt Lake County fell through, Davis scrambled.
"We made probably 60 to 70 phone calls over the course of a weekend trying to find anything near the Salt Lake Valley," he lamented. "We tried to look up places up Parleys Canyon. We tried something as far north as Ogden. We tried a lot of different things, and there wasn't a spot available for a tiny house."
Eventually, Davis found a mobile home park in Tooele, paying $350 per month in lot rent.
He wanted to live closer to his job in Salt Lake City, but there was a big roadblock to that dream becoming reality.
"Zoning largely doesn't allow it," he said of the city.
It's not just Salt Lake City. Many cities and counties along the Wasatch Front do not have a definition for tiny homes in their codes, making them not compliant with land use and building codes.
"We're working through that right now," said Angela Price, who works in the city's Community & Neighborhoods department. "Our planning division is certainly working on an ordinance that would speak to … tiny homes within a land-use table." Other municipalities in Utah have begun addressing tiny homes within their code, too, as a housing market on steroids forces them to look at less expensive and smaller housing options.
KSL-TV found few options for tiny homes on wheels. Some RV parks with whom we spoke allowed them. Many RV parks are experiencing a massive boom in demand and have waiting lists for long-term spots more than 200 people deep.
Washington County told us they allow these units on rural recreational land.
Eagle Mountain was the only municipality we could find that allowed tiny homes on wheels within residential neighborhoods.
Some tiny homeowners we spoke with said they live outside the law, parking their homes on properties of willing landowners. They said they're able to stay until neighbors complain and city code enforcement kicks them out.
A step toward tiny homes — accessory dwelling units
Some cities have taken a different approach to smaller living by incorporating accessory dwelling units, or ADUs, in their city codes.
Unlike tiny homes on wheels, ADUs come with more restrictions. They must be built on a foundation and be connected to sewer, water and power lines.
Price says there are additional restrictions, like "off-street parking, size, setbacks from property lines." She said the city wants to "maintain the residential character of the neighborhood."
Jason Coulam is the co-owner of Built By Design Construction, which has been building ADUs for a couple of years.
"We saw it as a really neat way of combining the good parts of permanent structures with the efficient, sustainable, really cool parts of tiny homes," he said.
He built an ADU for a client in the Liberty Park neighborhood, which cost "between $220 and $270 per square foot," he said.
This puts the ADU, which is larger than a tiny home at 640 square feet, at about $140,000 to $175,000 to build.
Tiny homes can be built for anywhere between $18,000 and $100,000+ depending on size and customizations.
If you zone for it, will they come?
Some of the cities offering external ADUs have seen mixed response to their new ordinances.
Pleasant Grove said it's only issued one ADU permit since changing its code several years ago.
Washington County had seen more demand. Their planning director told us they dropped the minimum square footage requirement on their books to allow for any size home. They have issued somewhere between 20 and 30 permits in the last few years.
Salt Lake City is required to file an annual report on ADUs. The city issued 33 permits in 2019 and 34 permits in 2020. The average size was 551 square feet. According to the 2020 report, only nine ADUs had been completed.
In its report, the city recommended multiple steps to increase ADU construction: remove or reduce zoning barriers, lower fees, and consider offering financial help to build more.
"We want to have housing choice for our residents," said Price.
The final code for tiny homes in the capital city will likely use the proposed plans for the Other Side Academy tiny home village for unsheltered people as a template. The development is currently under public comment until Sept. 30, with plans to break ground in March 2022.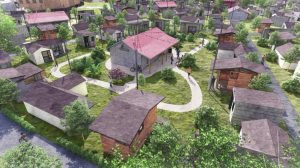 "We envision tiny homes within Salt Lake City that most likely would be clustered with other tiny homes," Price said, "kind of creating a little community."
Price explained parking a tiny home on your property may still not be allowed with code updates. People like Davis hope even more changes will come to city codes, offering more control and flexibility over where he is able to live. "If people had some of their property that they could use for other purposes, they could install something like RV hookups and rent to people like me," he said.
×
Related Stories
More stories you may be interested in
https://www.ksl.com/article/50249224/no-home-for-tiny-homes-living-small-hits-roadblocks-in-utah-communities