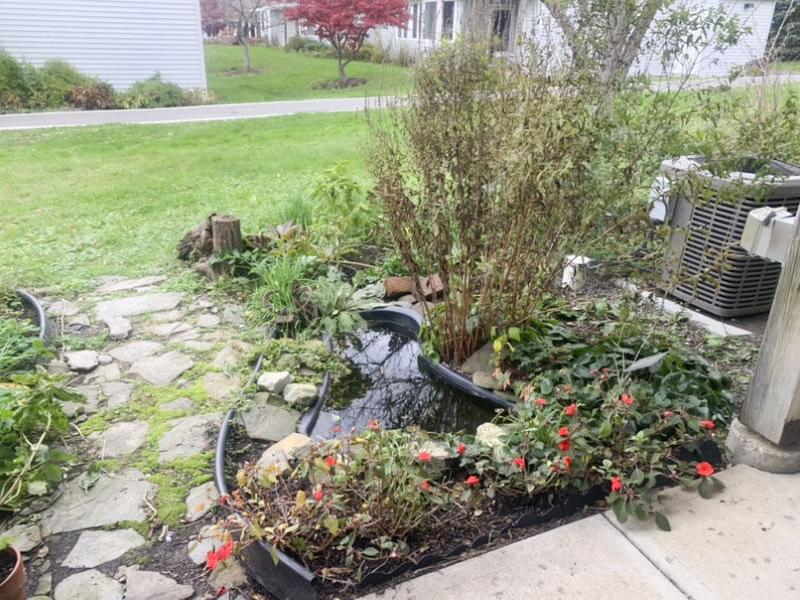 ITHACA, NY — Climate change is a current issue that the Ithaca community is constantly trying to battle to better the future of the environment. 
Leah Horwitz is a 94-year-old resident at Kendal at Ithaca who is adamant about climate change and wants to help make an impact to improve the environment through taking care of her garden. 
Kendal at Ithaca is a senior living community in the middle of the Finger Lakes region that provides older adults with extensive residential services and amenities, plus on-site healthcare for life. 
Horwitz has a binder titled "Climate Change" where she keeps all her recorded documents she finds important about the climate. 
"If we're not trying to be part of the solution, then we are part of the problem," Horwitz said. 
Horwitz has two great-grandchildren and she worries that if people do not come together to confront climate change, then there will not be a future for her family.
"I'd like their world to be better and it's going downhill," Horwitz said. "They live in California, where the air is full of smoke all because of climate change."
She wanted to start her garden in hopes that more people will turn to gardening, but says her garden alone hardly makes any impact at all.  
"I'm hoping that other people will catch on and maybe, they will follow suit," Horwitz said. "The garden itself is miniscule in its effect. The main hope is that it will inspire other people. In fact, I'm hoping that all of Kendal, I'm hoping it's part of their five-year plan to get rid of the huge lawn in the middle…and convert it to something that helps rather than hinders climate change." 
Cathy Chymes is an 82-year-old resident who lives at Kendal at Ithaca and she has been working on her garden since she moved in over 17 years ago. She has two strips of gardens that surround her cottage. 
"I've continued onward and we've done very well," Chymes said. "As long as I can find somebody to help me, I like gardening." 
Chymes said she does not like how the services at Kendal at Ithaca spray pesticides near her garden because it is a direct impact against climate change. 
"I'm forever after the maintenance fellas… they're not allowed to spray within four feet of my garden," Chymes said.  
Cathy Kessler is a part owner at Baker's Acre which is a business that prides itself on giving professional advice to people interested in gardening. Kessler is in charge of the perennial and herb department and gives consultations to people who want to start gardens of their own. 
Kessler gave a consultation to Horwitz at Kendal at Ithaca before she began her garden. When giving a consultation, Kessler goes to the area where someone wants to start a garden and spends about an hour with the person discussing what their vision is for their garden.
"Just getting as much information from them that I can possibly get so I can do what they're really looking for," Kessler said. 
Kessler offers advice on including native plants as an option for people wanting to begin a garden because they are usually not that invasive. 
"I do try to stick with plants that are good for our area and will help our area," Kessler said. "They're not taking up a lot of the oxygen in the air and so forth. They're meant for this area." 
After Kessler gives a consultation, the next step is to purchase the plants from Baker's Acre and then Kessler will return to where she gave a consultation and place the plants where she thinks will be the best place for them to grow. 
Horwtiz was inspired to take action and make a positive impact for climate change when she read "Nature's Best Hope" by Douglas W. Tallamy. 
"I was feeling very depressed and thinking, 'What could I do? There's nothing I can do.'" Horwitz said. "And then I realized there is something I can do. I can become an active participant in trying to makeover the whole of Kendal." 
Horwitz takes pictures of her garden and sends them to an email chain that goes to all the residents that live in Kendal at Ithaca.  
"I think that this is the most important issue of our day," Horwitz said. "That if we don't get involved and change the course that we are going on, our children are going to suffer irreparable damage. Our grandchildren, and my great-grandchildren, will certainly suffer." 
Horwitz's garden recently became certified by The National Wildlife Federation which aims to help inform people of positive impacts of eco-friendly gardening. 
"I am very concerned about generations to come," Horwitz said. "I don't have much time and energy left to put into it [climate change]. But whatever I have, I feel I must do it to the best of my ability."  
Certified Wildlife Habitat applicants ask that your garden fulfills several requirements. To be certified, your garden must provide food, water, cover, places to raise young, and offer sustainable practices.    
To certify your garden, visit https://www.nwf.org/certify.
https://www.ithaca.com/news/ithaca/kendal-residents-aim-for-climate-impact-through-gardening/article_bd825854-480a-11ec-8efd-2779c6b46ae7.html