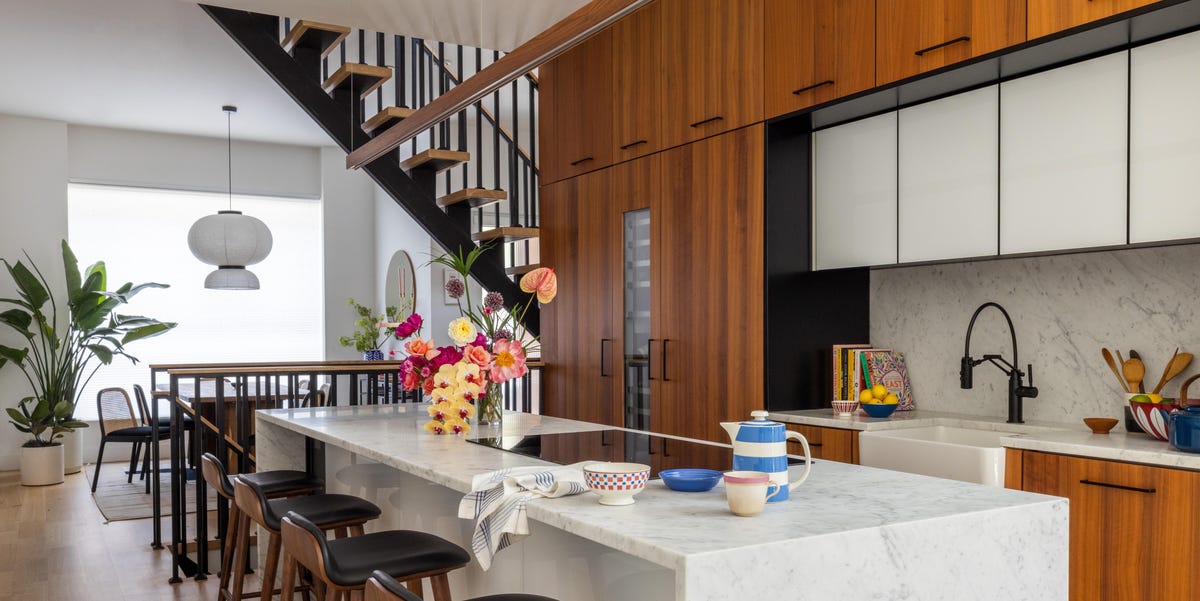 In designing her clients' Prospect Heights townhouse, designer Keren Richter of White Arrow says her goal was to "create a warm and inviting interior that complemented the home's modern finishes—matte white oak flooring, white marble, black-accented metalwork, and walnut cabinetry."
Richter adds that she found design inspiration from the homeowners' large-scale Raymond Saunders painting and "its moody, dark colors and red accents."
The end result is a townhouse filled with furnishings designed by a bevy of independent designers, as well as some contemporary pieces and vintage lighting and furniture, as a way of supporting the client's existing art and ceramics collection. The home's furniture, on the other hand, is a mix of jewel tones that are "complemented by grand gestures and greenery that emphasize ceiling heights and the home's natural light."
Ultimately, Richter says she and her design team "achieved a dynamic feel by pairing darker finishes with reflective brass accents and cool geometric silhouettes often to complement natural organic textures."
Explore the home below.
---
Living Room
In this abode's double-height living room sits a large-scale tree, meant to complement the space's sizable skylight. "The 10-foot tree towers over the Four Hands cane cupboard and adds a grand sculptural gesture," Richter enthuses. "We paired the Highland House blue velvet tuxedo sofa with a custom textile artwork created by Thompson Street Studio and a coffee table from Croft House."
Artwork: Thompson Street Studio and Periodic Table of New York Trash by Molly Young and Teddy Blanks. Accessories: MQuan and owner's own. Throw: Daniel Barreto. Vessel: Nedda Atassi. Tuxedo sofa: Highland House Furniture. Cupboard: Four Hands. Side table: vintage. Coffee table: Croft House. Armchairs: CB2. Credenza: Four Hands.
---
Dining Room
"Our client inherited a large-scale oil painting by Raymond Saunders, and its scale and color palate were the inspiration for the rich tones of their dining room," explains Richter. This space also boasts a custom flatweave Moroccan rug from RRESS and a white oak dining table inspired by Axel Einer Hjorth.
Rug: RRESS. Dining chair: CB2. Dining table: Four Hands. Artwork: Raymond Saunders. Pendant light: Jaime Hayon for &Tradition.
---
Dressing Room
With plenty of windows in the dressing area/sitting room, there is no shortage of natural light here. Plus, this enclave features a wall of storage, thanks to Reform cabinetry created in collaboration with Muller Van Severen, featuring an "accented brass toe kick and hardware." There's also a handmade woven pendant light by WeraJane and a wool rug from Cold Picnic, which, as Richter professes, adds "fun colors and artful details."
Cabinet: Reform x "Match" by Muller Van Severen. Daybed: CB2. Armchair: West Elm. Pendant light: WeraJane. Side table: Crate & Barrel. Rug: Cold Picnic.
---
Primary Bedroom
Dark blue floor-to-ceiling window treatments are a focal point of the primary bedroom, which are complemented by an emerald green Paavo Tynell pendant light, as well as a custom walnut floating nightstand and pendant lights by Buster and Punch.
Nightstands: custom. Sconces: Buster + Punch. Pendant light: Paavo Tynell. Sheets: Parachute. Bed and coverlet: Owner's own. Pillow: Etsy. Artwork: Lady of the Lake by Horace Pippin and a handkerchief print by Yayoi Kusama.
---
Follow House Beautiful on Instagram.
This content is created and maintained by a third party, and imported onto this page to help users provide their email addresses. You may be able to find more information about this and similar content at piano.io

https://www.housebeautiful.com/design-inspiration/house-tours/a38266408/keren-richter-brooklyn-home-tour/