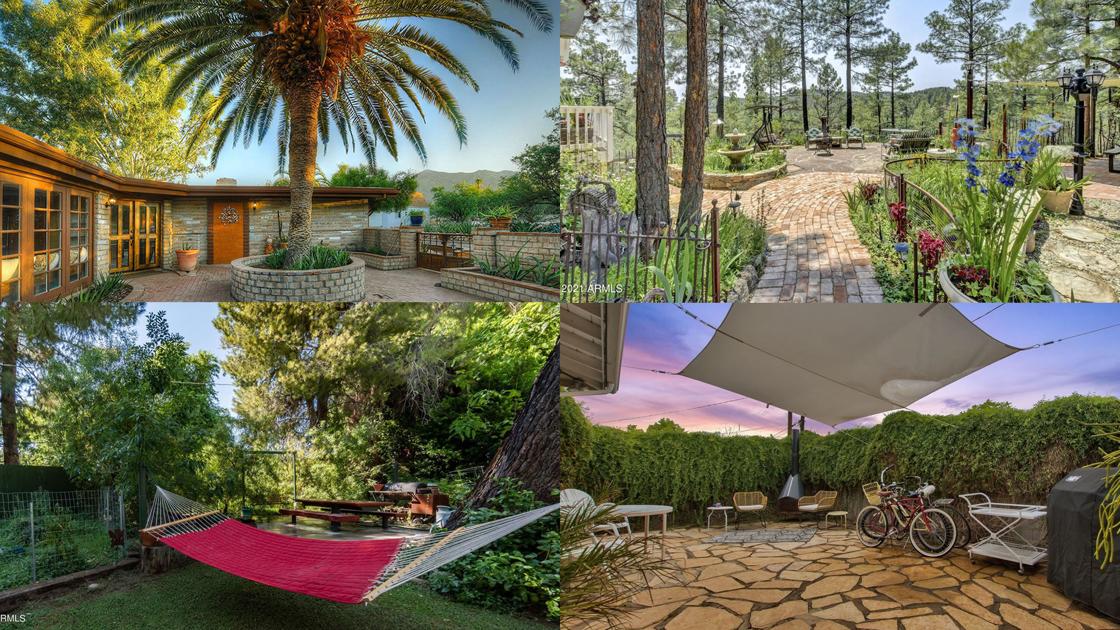 It's that magical time of the year in Arizona that is just made for outdoor living. So, for those who may be looking for some backyard, courtyard or entertainment space inspiration, here are four homes from across the state that are on the market right now and showcase Arizona outdoor living at its best.
Best Outdoor Feature: Numerous mature shade and citrus trees set on nearly an acre of flood irrigated property. We especially love the hammock situated in a perfectly secluded spot, and the picnic table and gazebo for entertaining.
Location: 2621 E. Earll Dr., Phoenix, AZ 85016
Built: 1945
Square feet: 2,043<
Lot Size: 0.81 Acres
Bedroom/Bathroom: 2/2.5
Price: $1,499,000
Listed by: Wendy Wagner, RE/MAX Foothills
Best Outdoor Feature: Beyond the beautiful, wooded setting, the flagstone patio surrounded by rock gardens filled with seasonal flowers and ornate metal fencing is perfect for relaxing with morning coffee, watching the season pass, or entertaining from a cool day into a chilly evening.
Location: 4836 S. Kaibab Rd., Prescott, AZ 86303
Built: 1986
Square feet: 898
Lot Size: 0.56 Acres
Bedroom/Bathroom: 2/1
Price: $464,812
Listed by: Cody Anne Yarnes, Rent Right Management Solutions
Best Outdoor Feature: We love Arizona rooms, and this one is perfect, with paned windows and doors looking out onto the beautiful flagstone patio, complete with sunshade and a fireplace for those cooler month gatherings. The vines surrounding the entire patio add a sense of cozy escape. (On a side note, kudos to the owners for maintaining the original pink and blue bathroom tiles, built-ins and other original features — love to see Phoenix mid-century represent!)
Location: 1357 W. Mulberry Dr., Phoenix, AZ 85013
Built: 1956
Square feet: 2,770
Lot Size: 7,688 Sq. Ft.
Bedroom/Bathroom: 4/3
Price: $629,900
Listed by: Brianna Gomez, HomeSmart
Best Outdoor Feature: Another mid-century gem, this Tucson home focuses on its natural desert surroundings. We especially love the beautiful centerpiece palm in the courtyard — a perfect spot for outdoor gatherings. Bonus, this home was designed by one of Arizona's prominent first female architects, Anne Rysdale.
Location: 7235 N. Village Ave. NW #62, Tucson, AZ 85704
Built: 1959
Square feet: 3,157
Lot Size: 1.17 Acres
Bedroom/Bathroom: 4/3
Price: $695,000
Listed by: William Baffert, Russ Lyon Sotheby's Int Realty
Listing facts and photos courtesy of listing agent/Redfin.com
https://www.citysuntimes.com/real_estate/home-inspiration-4-properties-that-showcase-arizona-outdoor-living/article_1b02e1c8-2f89-11ec-a095-c35bdd016b23.html