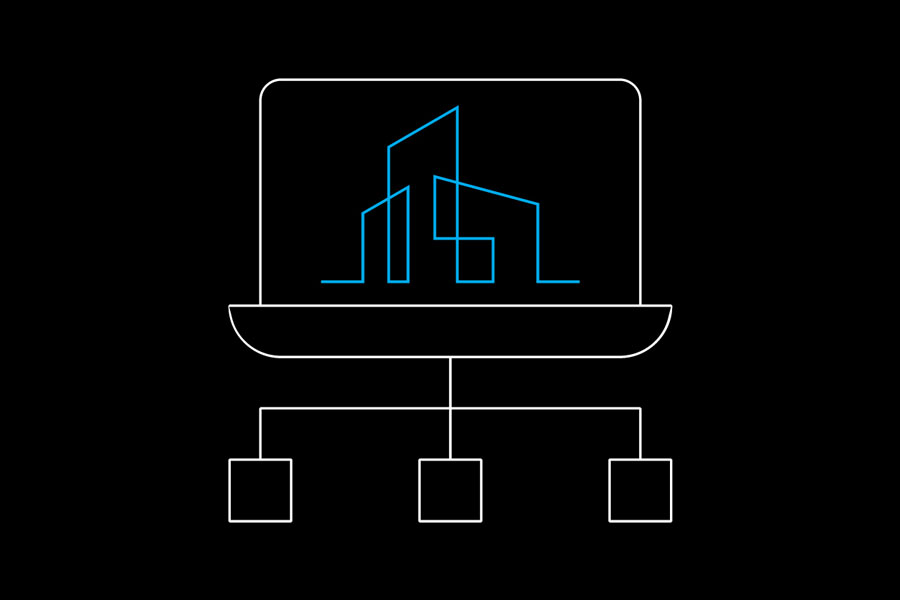 When COVID-19 hit in 2020, architect Carol Kurth, FAIA, never anticipated that the pandemic would have a long-term impact on her firm operations. Conducting business via virtual meetings on Zoom and Microsoft Teams has been an unforeseen adjustment, one that still raises mixed sentiments. "There are so many pros and cons and I find both sides to be true in this unique scenario," says Kurth, the principal of her namesake architecture and interiors studio in Bedford, N.Y.
For the last two years, architectural practices have remained largely resilient and adaptable. Despite the profession's strong culture of in-person collaboration, 72% of firms afforded full-time or nearly full-time remote work options for employees in 2020, according to the 2021 AIA Compensation Report. Now that architects are returning to the office in varying capacities, we can begin to examine the challenges and successes of remote design work, from the advances made through technology to the efficiency of everyday operations, the limitations of operating remotely, and the implications for architecture as a profession.
Embracing Technology
Technology has allowed architects to adapt quickly to the new normal, continue offering services and products, and even start new ventures. "The technologies are readily available and almost instantly accessible, providing architects opportunities never available to us in the past," says Mark LePage, AIA, president of Fivecat Studio (formerly McCarthy LePage Architects) based in Waxhaw, N.C.
We employed a digital platform where both our clients and the full team could log into our virtual reality sessions at any time, interact with our spaces, and leave us notes for when we logged back in.
Kurth agrees. "Until the pandemic, we did not [frequently use tools such] as Zoom or Microsoft Teams to make the entire team simultaneously be productive, work remotely, and feel connected virtually," she says.
The quality-control aspects of design have also improved, says Simone Wallenstein, Assoc. AIA, associate architectural designer of New York–based Handel Architects. Resources like Bluebeam, a PDF-markup and collaboration tool, have reduced the number of coordination errors and streamlined communication with its redlining features. Technology has also helped organize workflows. "Harvest, a time-tracking tool, has been vital to our office for many years and during the pandemic," Kurth says. "It continues to be a very intuitive tool that the team can use on various devices, and it works well with the start–stop nature of remote working." Her office uses Google Workspace for deliverables.
The changing workflow has also extended to client communications. "The 'share screen' feature is more productive than I expected," says William J. Martin, AIA, a sole practitioner based in Westwood, N.J. Meghana Joshi, AIA—a senior project manager at Little Diversified Architectural Consulting in Newport Beach, Calif.—says that a flexible, physical–digital approach remains a successful communication option in virtual meetings. Firms also employ Miro's digital whiteboard to aid the design process and construction administration platforms, such as Procore and PlanGrid.
"Pre-pandemic, we would invite clients to our office 'design lab' and host in–person sessions to develop design," says Jessica Sheridan, AIA, principal of New York–based Mancini Duffy. As the pandemic stretched on, so did the firm's need to continue this existing office framework. "We employed a digital platform where both our clients and the full team could log into our virtual reality sessions at any time, interact with our spaces, and leave us notes for when we logged back in," she says.
Understanding someone's familial nuances and to be able to make a concerted effort to have work balance their needs at home [has helped] with both office morale and retention rates.
Still, some architects prefer being on-site, particularly when projects begin construction. "There is still no substitute for actually being there," Martin says. "I am always suspicious of what the photos and videos don't show. Overcoming my own work–style biases is a transformation of remote–work circumstance. I have reluctantly gotten used to it."
The Benefits of Time and Space
After a "zealous over collaboration across platforms" in the early days of the pandemic, Joshi says, a surprisingly seamless change rapidly ensued. "Intentional goals and defined workflows helped bring a sense of purpose to communication," she says.
Many architects have also noticed a rise in productivity as the time typically spent commuting to the office, in client meetings, and on job sites was redirected to work and, importantly, enabling more time away from work. "Having a longstanding rapport with my team has definitely helped during this transitional time," Kurth says. "Understanding someone's familial nuances to be able to make a concerted effort to have work balance their needs at home [has helped] with both office morale and retention rates."
Well before COVID-19, LePage closed his studio's physical location in 2013, restructuring his office as 100% remote. "Our team was given more freedom to integrate their life with their work," he says. "My wife [firm partner and architect Annmarie McCarthy, AIA] and I could provide more attention to both our firm and our family."
The benefits are twofold, with clients achieving equivalent gains. "Our clients are juggling work, children, and life, so it can be a timesaver [for them] to meet virtually," Kurth says. She points out other savings, such as the "hidden" cumulative costs of wardrobes, lunches, and materials associated with client meetings.
The Flip Side of Remote Work
The relatively rapid switch to telework also created new challenges. Establishing professional relationships with new clients, as well as with colleagues and consultants is made even more difficult, particularly for designers new to a firm. During the early months of the pandemic, before vaccines were even on the horizon and COVID-19 was spreading rapidly in the Northeast, Martin lost a potential client. "They insisted that I meet with them in person," he says. "They were willing to stay 6 feet apart but wanted to walk through a site together. They would not accept a teleconference as an alternative, and that was that."
The lines of the traditional workday and personal hours can also be blurred for remote offices. "Many clients, and even consultants, seem to think working remotely from home means you can work all the time," Martin says. "I have been telling clients that unless the communication is an emergency, they will hear back from me within one business day. Once time boundaries are reasserted, most people do respect them."
Managing staff can also be exhausting. "As the head of a 10-person team, I find it exhausting on many levels," Kurth says. "Where I could previously walk around the office and meet with people at their desks or drawing boards, remote work has meant I need to work around everyone's personal schedules." With multiple staff members engaging in design, construction, and administration, group conversations in real-time can be more convenient.
Understanding the unique work habits of employees has also been critical. "I needed to tune into how individuals work—meaning that some were much more productive working alone than others," Sheridan says. "I became more aware of individual mental health, as we all are navigating through the pandemic differently."
No amount of daily team calls can replace our monthly meetings that lead to cold beverages on our terrace overlooking downtown Manhattan.
Besides the palpable loss of traditional collaborative scenarios, including design charrettes and lunch-and-learns, working remotely can result in longer response time to client requests. "I noticed the response time from both clients and consultants has increased slightly," Martin says. "Additionally, more time is also needed to prepare a teleconference call instead of a simple phone call." However, he adds, a teleconference with a visual presentation typically results in shorter and more productive meetings.
The social component of working in the office is also difficult to replicate remotely, as Sheridan notes: "No amount of daily team calls can replace our monthly meetings that lead to cold beverages on our terrace overlooking downtown Manhattan."
Designing a New "Normal"
Between waves of COVID-19 variants, architects continue to assess the the new and old ways of doing business and outline a future workplace paradigm. After surveying its staff on the effectiveness of remote work, Mancini Duffy and found that the most senior and most junior level staff preferred in-office work. While the senior staff relied on collaboration and team meetings to keep projects moving, the junior staff needed more experienced staff for mentorship.
The firm's mid-career staff worked most efficiently at home, particularly on production work. "What this revealed to me was two things," Sheridan says. "There needs to be a commitment by staff at all levels to mentor junior staff, or our profession is going to have serious deficiencies in professional development in the future. We need to figure out a way to break down traditional hierarchies to be less siloed."
When we finally reunited for an office celebration, after over 18 months of mostly virtual meetings, it was a memorable time where we could all be together as a design family.
She hopes the new workplace, in whatever form it takes, will prioritize collaboration and communication and allow firms to be more inclusive and transparent in interactions. "We need to anticipate that as workplaces—both our clients' and our own—move to more flexible hours, team members need to be able to respond quickly to questions and/or issues that may arise on a job," she says. "While hours may be more flexible, deadlines are increasingly tighter and more rigid. If one team member is unavailable, others need to be able to fill in to keep a project moving."
To facilitate communication and accessibility to managers and leadership, firms can align employee schedules, allot time for recurring virtual meetings, and define set work hours. To ensure consistency and intentionality in their deliverables, they can also standardize office processes and documentation.
The recent—and tentative—move to return to the office has given many architecture firms some relief. "When we finally reunited for an office celebration, after over 18 months of mostly virtual meetings, it was a memorable time where we could all be together as a design family," Kurth recalls. "The reunion almost felt normal—whatever that now means."

https://www.architectmagazine.com/practice/has-remote-work-changed-the-architecture-profession-for-good_o