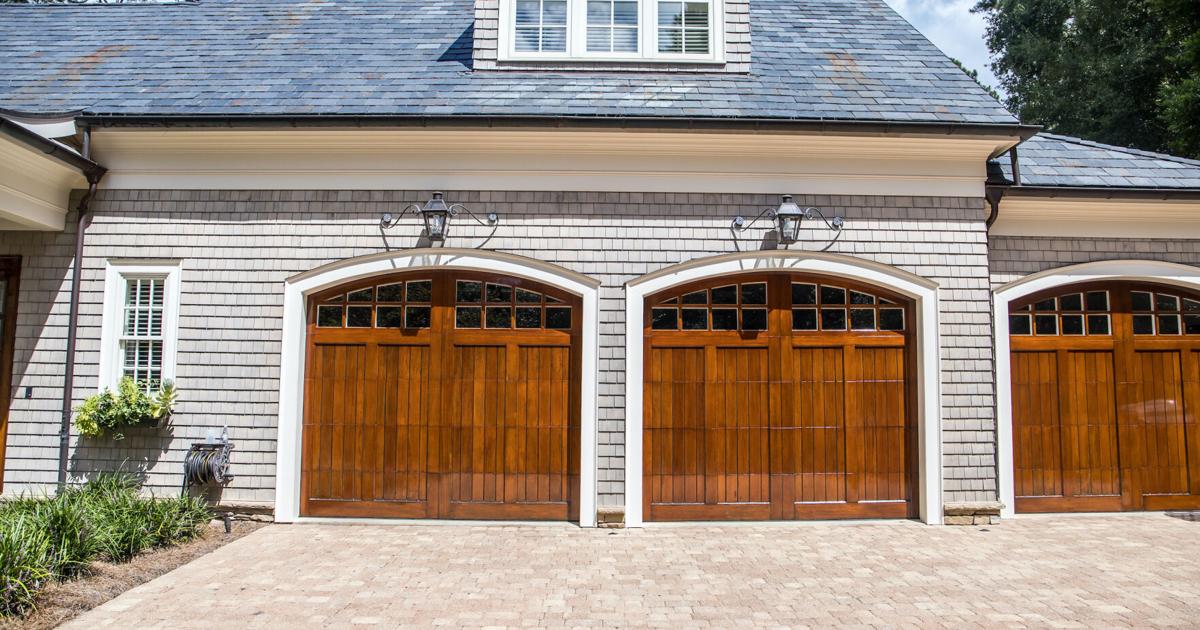 I guess this is where I am in my life where I am super excited about having new garage doors installed.
My wife and I were talking a while back about various home improvement projects we wanted to consider. We decided we would make a list of the things we wanted in priority order and go from there. The fact that we both had garage doors at the top of our lists tell you that my wife is at that same point in life.
Our existing garage doors were sort of okay. I mean, they covered the opening of our garage fine, at least from an outsider's perspective. But they were old. And they didn't quite sit flush, which meant our garage had an open door for any critters that wanted to come in and hang out.
This was made quite clear when we were moving a shelf in our garage one day, and we found that underneath an animal of some sort — we assume a rat — had built a lovely nest comprising of doll clothes and a plastic conference badge my wife once wore. The doll clothes were our daughter's, and the bin that used to store them had been chewed through. The conference badge was from goodness knows where, but it had my wife's name on it, so I guess the rats got it from somewhere in our garage.
We had several companies come out and give us estimates. The first one who came out walked into the garage, looked at the unit, and said, "Just how old is this thing?"
He said that it was so out of date (and I assume code) that he said we wouldn't even be allowed to work on repairing it. I felt as if he were directing that at us as if we had done something wrong, rather than, you know, not replace a garage opener that still worked.
Eventually we settled on a company. To my delight, they said they could come out the following week, as they had the doors in stock. That tells me that the doors we picked are plain and ordinary and really run of the mill, and that is perfectly fine with me. I want two big ol' white rectangles, plugging the gap. That's all. No windows. Nothing. Just a door.
When the time came for the installation, the company truck pulled into our driveway. A young man got out, we exchanged pleasantries, and off he went to work, I assumed just prepping stuff before the full work crew arrived. I went inside and returned an hour or so later to see how it was going, and also to let the work crews know that they were welcome to use the bathroom or get something to drink should the need arise. I'm a very hospitable host.
I walked outside and saw that my two garage doors were fully disassembled. The young man was working on one of the rails, which was going to be replaced. I said, "So when will the rest of the crew get here?"
He chuckled. "It's just me."
I said, "You … you can do this by yourself?"
He said, "Uh, yeah…"
I just assumed an army of workers were needed to do that. Partly, I guess I assumed that because I would have no clue how to replace a garage door, and if I had a substantial work crew around me, there would be a good chance one of them did.
By mid-afternoon, he was all done, and was showing us the features of the unit. And of course, the most important feature, which will be 99.9 percent of its life, was the opening/closing feature, which is whisper quiet and seals flush.
I was very pleased with the installation, and the fact that one person did it himself still kind of amazes me. But he did, because he's a pro and delivered on what we hoped he would — keeping my daughter's childhood doll clothes safe.
Mike Gibbons was born and raised in Aiken, S.C. A graduate of the University of Alabama, you can e-mail him at [email protected] or follow him on Twitter @StandardMike.

https://www.postandcourier.com/moultrie-news/community-news/garage-doors-are-for-more-than-just-new-home-repair-project/article_9736f39e-c186-11ec-a40b-97865a65c16e.html