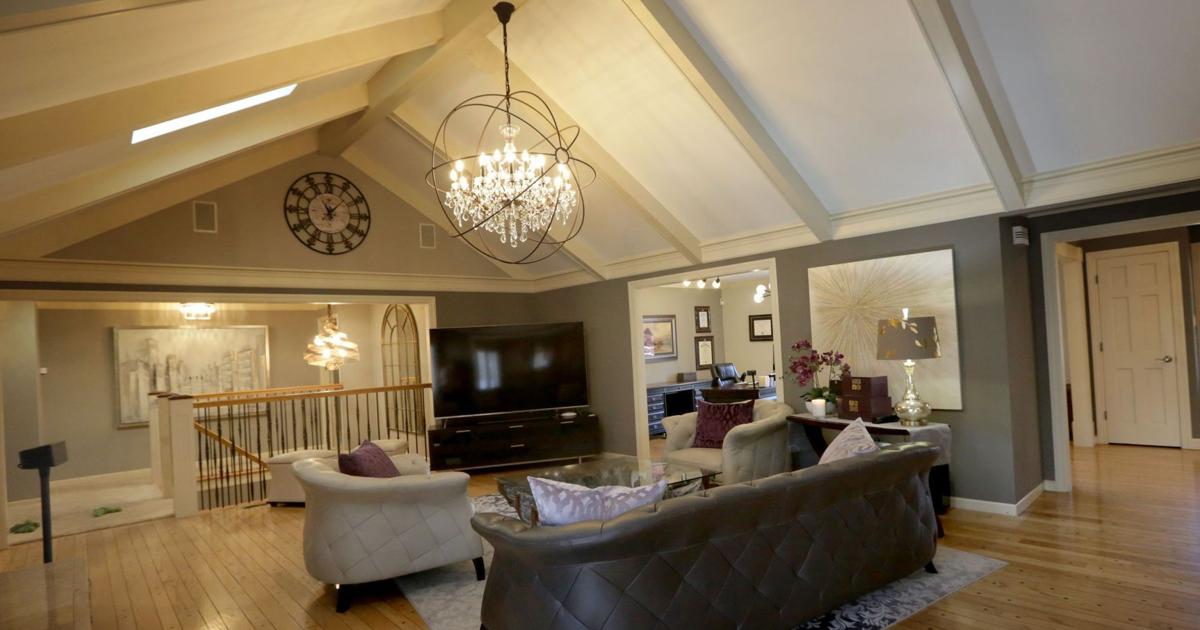 By Amy Burger Special to the Post-Dispatch

Matt Treaster and his husband, Daniel Barna, love to entertain. With a tight-knit social circle of five couples and their kids, they regularly host parties and dinners. In addition, both have out-of-town family who visit throughout the year, so finding the perfect home to host all of these guests was important when they began house-hunting over a decade ago.
Treaster grew up on a big family farm in Farmington, Missouri, while Barna is from Hungary and his family is still based there. The two met in St. Louis, where Barna went to college and graduate school and Treaster, an emergency medicine physician, began his residency at Barnes-Jewish Hospital.
After transitioning into a new position with SSM Health, Treaster was working in many of the hospital system's emergency departments and needed to find a centrally located home where he could easily get to all of its facilities. They searched for two years for the perfect spot.
"We wanted a large atrium ranch with a walk out and a pool on a private street and a big yard. It was a lot of wants, and that's really hard to find," says Treaster.
Fortunately, they had a real estate agent who was very patient and in 2013, they finally found a perfect 1980s ranch home in Creve Coeur that checked all the boxes. They were the first ones through the day it came on the market and were able to quickly negotiate a sale.
The house offered plenty of living space for the couple, an in-ground pool, four bedrooms on the main level and an unfinished walkout lower level with over 4,000 square feet that they could eventually remodel to suit their needs.
"It's a nice, big family house, so it's great for my family who come out a lot, but also Daniel's family who live in Europe and come to visit for several weeks at a time," Treaster says. "We wanted a space that they could feel comfortable in but not feel like they were right on top of us, and that we'd have room to entertain."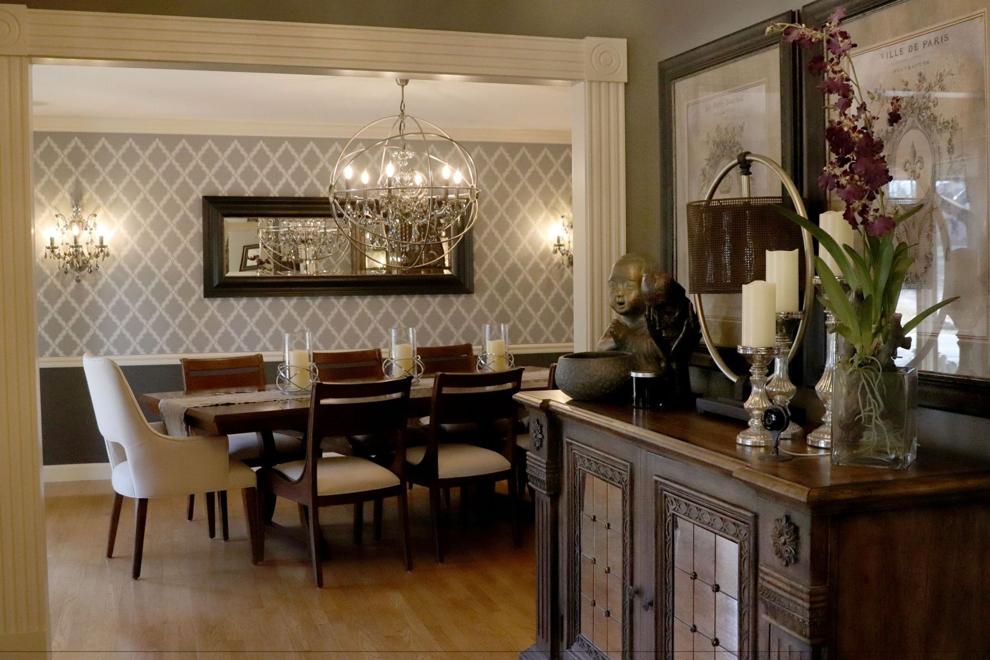 After moving in, they began making some general cosmetic updates to the main floor to inject it with their own personal style. In the spacious living room, which has vaulted, beamed ceilings and a great view of the backyard, they replaced the small, red brick fireplace with a new one of stacked stone carried all the way to the atrium ceiling. Throughout the main floor, they refinished the original pegged hardwood floors.
They had begun working on the lower level, having finished one small room in the front corner, when their focus shifted in 2015. Treaster's parents were separating and his father, Thomas, needed more help than he could get living on his own. The 70-year-old (now retired) aerospace engineer was making long commutes from Farmington to his job in St. Charles.
"We had thought about having an in-law suite in the house, but it really took shape when it became apparent that it would be best for him to come live with us," Treaster recalls. "Then we went full steam ahead with building his own apartment."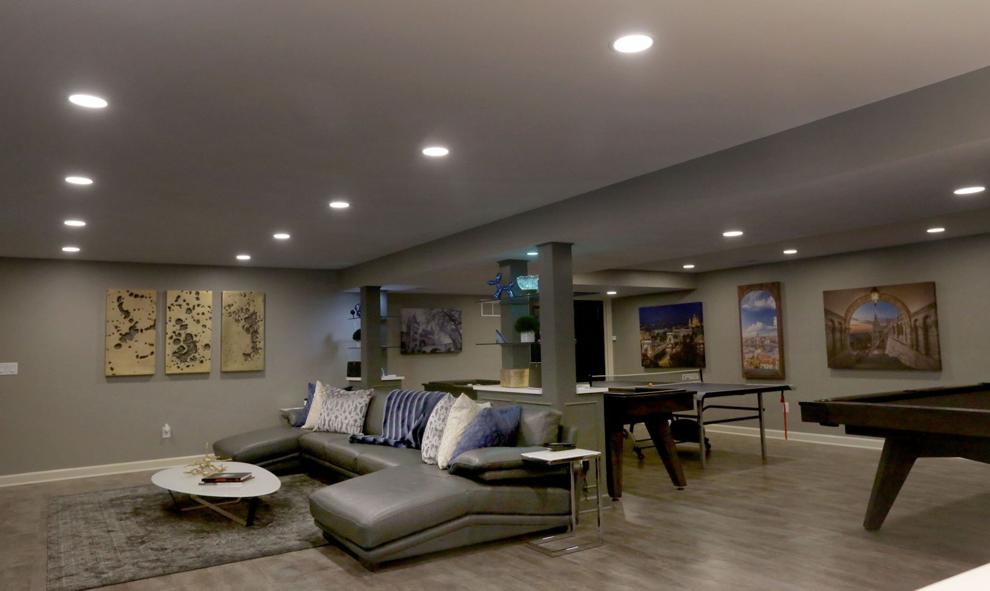 In addition to the separate living quarters for Thomas, the couple wanted to create an entertainment haven in the remainder of the lower level complete with a living space, focal point fireplace and bar, gaming area, bathroom and state-of-the-art home theater — all in a sleek, modern and tech-forward style.
Doing their homework, Treaster and Barna met with more than six different contractors before deciding to work with St. Charles-based Liston Design Build, a family business owned by Jeanne and Keith Liston.
"We primarily only use family-owned businesses so I wanted to keep it that way," says Treaster. "Once we met Keith and Jeanne, we stopped the search. They were as excited about our space and the challenge as we were. Their team perfectly understood the vision we had for our lower level."
Their biggest goal was for it to not feel like a basement. Large French doors leading out to the pool deck fill the space with natural light and loads of custom details make it feel just as important as the main level.
The father-in-law suite includes a modern, full-service kitchen and open living area, as well as a bedroom, fully accessible bathroom and a laundry room. As an extra-personal touch, Liston added a small indoor dog door topped with an awning and flanked by tiny topiaries between the suite and the entertaining area for the family dog, Buddy, to easily go in and out. Fully soundproofed walls allow Thomas to relax in the quiet even when Treaster and Barna are entertaining.
"It was a good move for me. I don't think it could be done any better. Everything is at your fingertips down there," Thomas says.
For the lower level remodel, Liston Design Build was awarded Design of the Year in 2021 from the Home Builders Association St. Louis.
"I wanted a space that had all the things we were going to use it for but with enough area that you don't feel on top of each other," says Treaster. "We really love this space."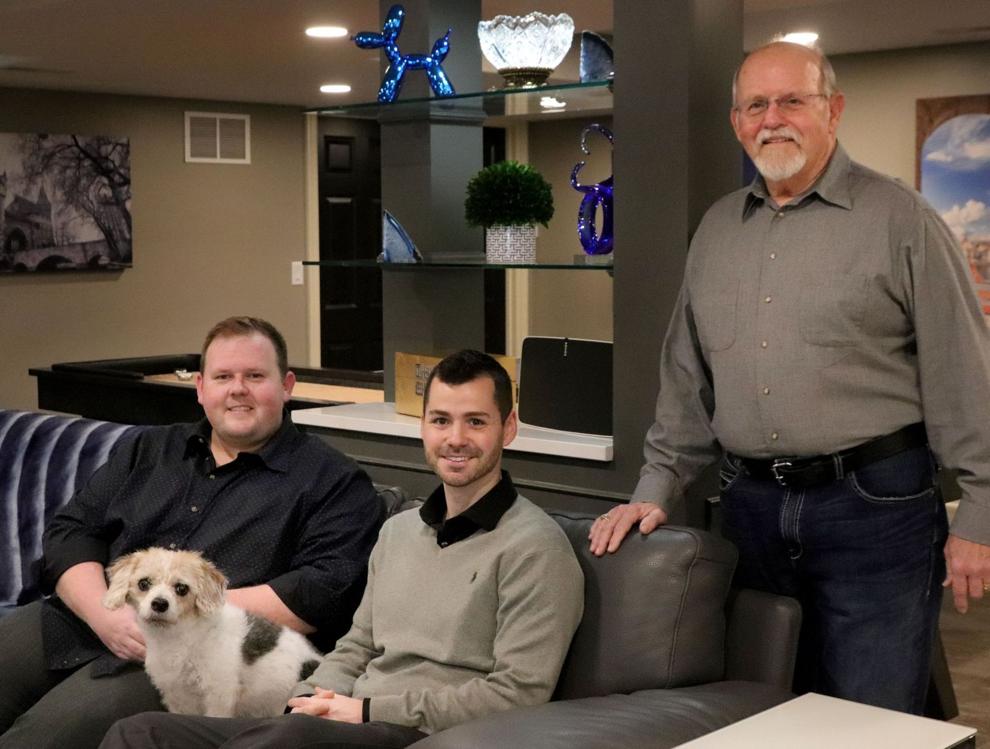 Matt Treaster and Daniel Barna
Ages • Treaster is 38, and Barna is 29.
Occupations • Treaster is an emergency medicine physician for SSM Hospitals, and Barna is an accountant.
Family • Treaster and Barna share the home with Matt's 70-year-old father, Thomas Treaster, and their beloved rescue dog, Buddy.
https://www.stltoday.com/lifestyles/home-and-garden/creve-coeur-remodel-focused-on-entertaining-and-multigenerational-living/article_97bc2214-9054-50b9-a823-12824da7ddfa.html