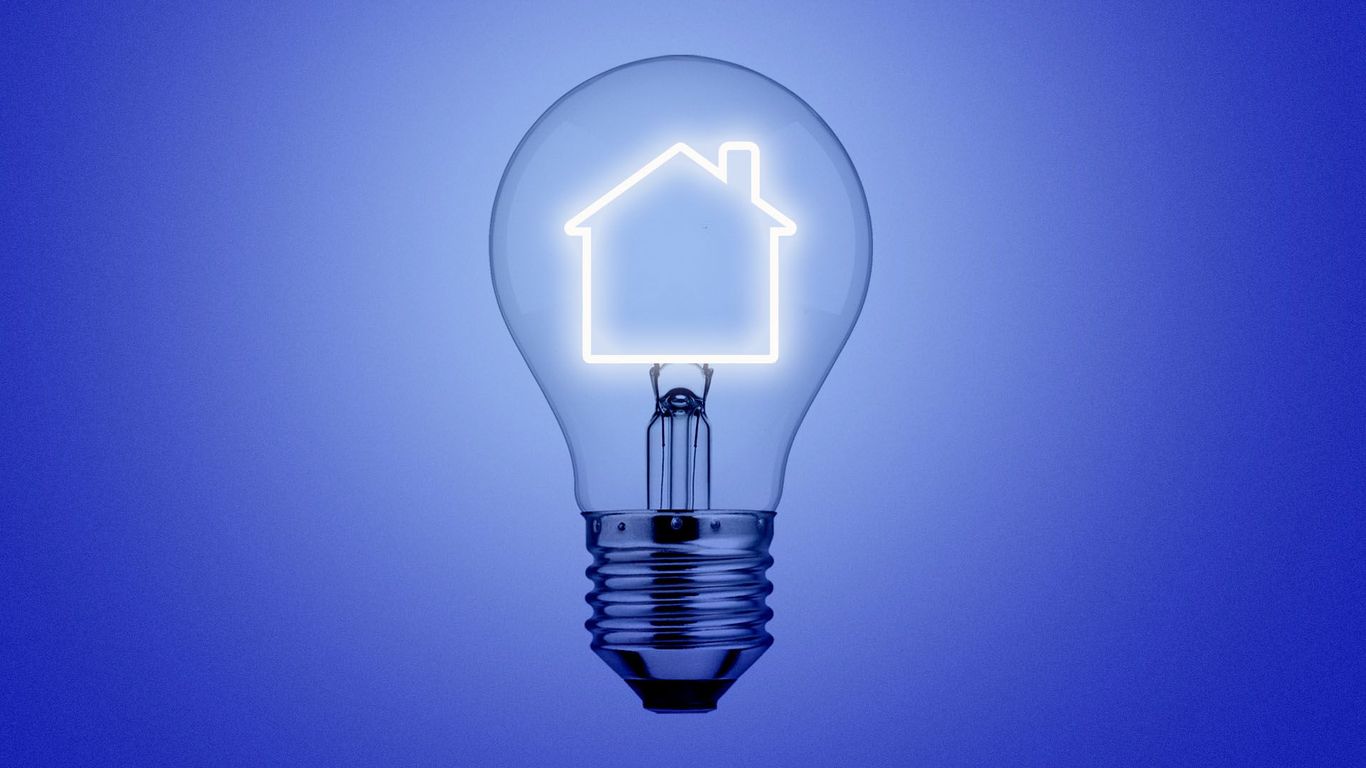 The pandemic may be on the wane, but the appetite for homes where residents can each have their own space — and enjoy time indoors — will be a lingering legacy.
Why it matters: Builders, architects and interior designers are all adjusting to a new reality in which we spend more waking hours at home and don't take for granted that household members will leave every day for work or school.
What's happening: While the pandemic put a premium on outdoor features like pools and big backyards, it also nurtured a desire for large, flexible interiors — like open-plan living rooms — and rooms that can be repurposed as conditions change.
An example is a home office that can be redone as a kids' playroom when its occupant returns to the "real" office.
Spacious kitchen islands — and "double" islands that are parallel or side-by-side — are in hot demand as people grow accustomed to cooking at home and wean themselves from takeout.
Projects like closet renovations and "smart home" installations are on the upswing, according to Thumbtack, which connects homeowners with contractors.
In a RentCafe survey of people looking for rental apartments online — taken a year after the pandemic started — "more space" was a priority over "cheaper," reflecting a long-term view that cocooning is here to stay.
What they're saying: Before COVID-19, your house "was a place to run home from work, drop off stuff, quickly eat something if you're lucky, and get the kids out the door for sports," Laurel Vernazza, a home design expert, tells Axios.
"The pandemic forced people to stay home and reevaluate their space and say, geez, we don't really have a space for everybody to decompress and do their own thing."
Her company, The Plan Collection, sells pre-drawn home plans to builders and middle-income consumers who are looking for off-the-shelf designs.
Lately, they've seen more demand for home plans with larger outdoor spaces and easier access to them — "not just French doors, but those large, floor-to-ceiling door sliders," Vernazza said.
Rec rooms and multipurpose "bonus" rooms are hot. "After months at the dining room table, people are kind of like, alright, I need to reevaluate our home and make spaces for everybody, and make it comfortable," Vernazza said.
The details: Interior designers agree on some trends that have emerged at this stage in the pandemic.
Curves, in furniture, moldings, arched openings and barrel-vault ceilings, are chic.
"Biophilic" design, or elements drawn from nature — like outdoorsy-looking houseplants and the use of natural and organic wood — is too.
Bigger and more permanent WFH spaces, sometimes with libraries or sitting areas, are here to stay.
Recycled materials and accents: Broken supply chains and the lumber shortage are pushing homeowners toward flea market finds and other "new-stuff" alternatives.
https://www.axios.com/covid-has-changed-home-design-for-good-615e3055-91ce-4b54-af72-1626adc50c20.html