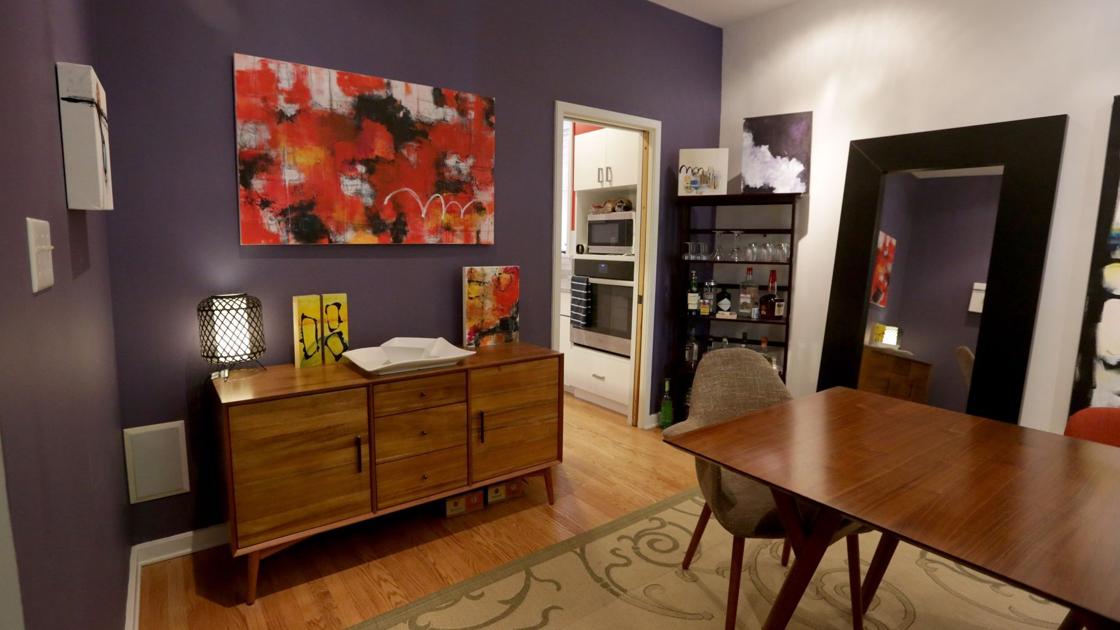 By Amy Burger Special to the Post-Dispatch

Radio veteran and longtime voice-over artist Brian Kirchoff took up painting just three years ago — but in that short time, he's honed his skills and amassed a large collection of abstract artwork. He has exhibited and sold his work at various art shows and on his website, and works out of a basement studio in the Central West End condo he shares with his wife, Betsy. Brian's art also adorns the walls in nearly every room of their home.
Built in 1904, the historic building was gutted and renovated in 1989. The Kirchoffs believe it was once a four-family but was converted to a two-family in that renovation with side-by-side townhouse units. The Kirchoffs purchased their unit six years ago, moving to the 1,100-square-foot per floor condo from their previous 3,500-square-foot house in nearby University City as their daughter set off for college out of state.
"I tend to just want to move every 10 years," Brian says. "We've loved the Central West End forever. Every now and then I would just look to see what was available."
When the Kirchoffs saw the rehabbed condo, they knew it was perfect for them, with two stories of living space plus the finished basement for Brian's art and recording studio. They also were delighted that it had a detached garage, and a small, fenced yard — both hard to find in a city condo.
The home was well renovated with nice touches including beautiful hickory doors, staircases and trim, as well as built-in cabinetry and a marble front wood-burning fireplace in the living room. When they moved in, they worked with their neighbors to remodel the front façade of the building and replace its membrane roof. They also expanded and screened in the porch off the living room, as well as expanded a second-floor deck off the master suite and adding a full-width retractable awning.
https://www.stltoday.com/lifestyles/home-and-garden/central-west-end-condo-serves-as-home-gallery-and-office-for-painter-and-voice-over/article_5bc8aeae-f3c8-59ba-932e-b61d4a047ebf.html