Perhaps one of the most unique houses we've ever seen as it's nestled into a secluded rocky cove on Serifos Island. The modern, cave-like home, designed by Mold Architects, built into the sloped land instead of on top in order to protect the house from the strong north winds. Each floor extends out creating multiple outdoor spaces with views of the sea.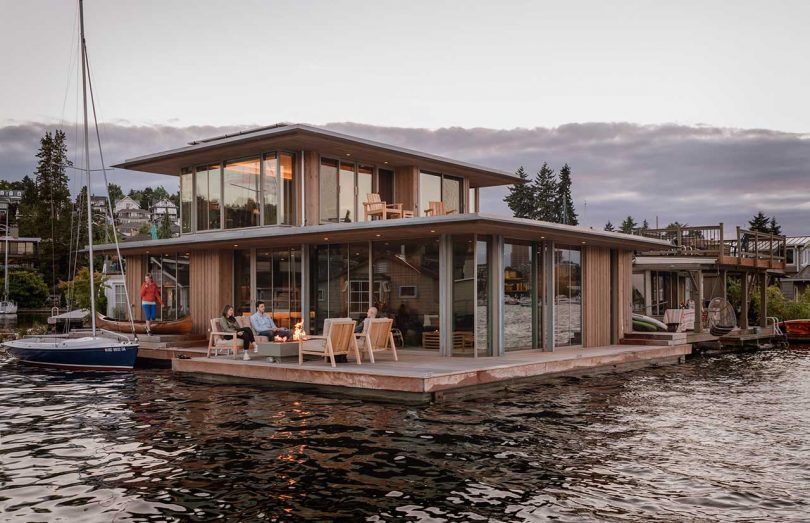 Designed by Jim Olson of Olson Kundig as an oasis on the water, the Water Cabin is a retreat offering 180-degree views. The floating home lives in Portage Bay in Washington State with floor-to-ceiling sliding glass doors that open to make it feel like living outdoors.
Designed by Studio AM Arquitectos, the Pelicanos House in Cancun, Mexico is a modern home that maintains privacy in a floor plan that also prioritizes openness. Despite its windowless facade, the interior feels open and bright with a sculptural travertine marble staircase that can be seen from every room.
Orange Architects proved that all tiny houses do not look the same with this Holiday Home just minutes from the North Sea on the Dutch Island of Texel. The modern cabin boasts a bold exterior and a sculptural interior within a compact 753 square feet. The spaces are designed to pull double duty allowing the interior to transform from daytime use to night.
This modern cabin, Chalet Pic-Bois, resides near Brome Lake in southern Quebec within a clearing in the woods. Ravi Handa Architect managed to preserve nearby trees by utilizing a compact footprint that results in a narrow, two-story structure. The wood-clad exterior complements the interior with its warm color palette consisting of light wood tones, grey textiles, and black accents.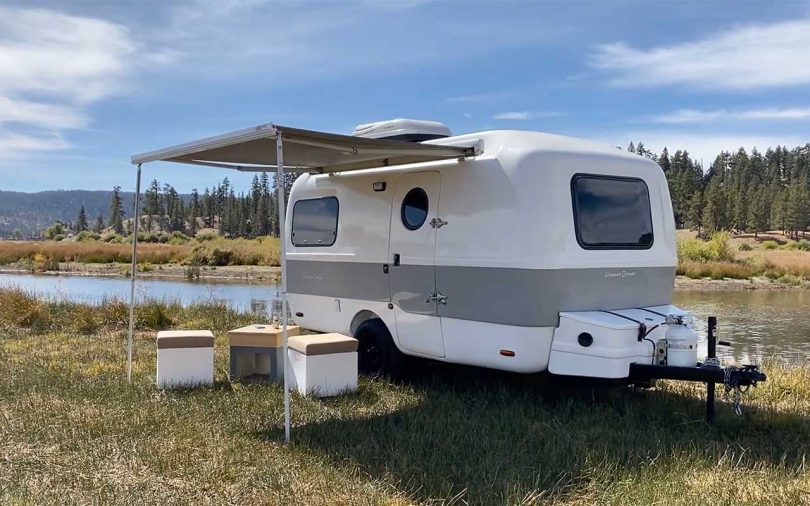 Due to the ongoing pandemic, travel has been tricky, especially air travel, making road tripping feel like the best option. Happier Camper launched a new, lightweight, fully-equipped trailer that offers all the comforts of home, including a complete bathroom, kitchenette, and semi-customizable interior with modular cube units that allow the user to reconfigure the trailer as needed for seating, sleeping, relaxation, or storage.
Located in Valle de Bravo, Mexico, Casa Rancho Avándaro is a weekend retreat designed by Chain + Siman to fit in with the surrounding wooded landscape. The house comprises three structures each with a gabled roof and stone walls that strike a balance between rustic and modern.
TERADA HIRATE SEKKEI designed the TERADA HOUSE in Tokyo with a monolithic grey exterior and a surprisingly colorful interior. The design feels futuristic with home furnishings in vibrant colors with space-age curves and silhouettes in plastics, that will make you wonder which decade you're in.
Ravel Architecture designed this single story home perched up high on a steep slope in Austin, Texas. Working with the land's curves, the boomerang-shaped house is configured to make the most of the 180-degree canyon and city views. The open floor plan's main rooms overlook the canyon making it feel as if they're living high above the trees.
And the most popular Architecture post of 2021 is…
It's December after all which means winter for many of us around the globe. The colder months don't have to be miserable when you're spending them in a cozy modern cabin that's designed and built for the elements. We searched to find 10 modern cabins we'd be happy to hunker down in to get through the next few months of winter.