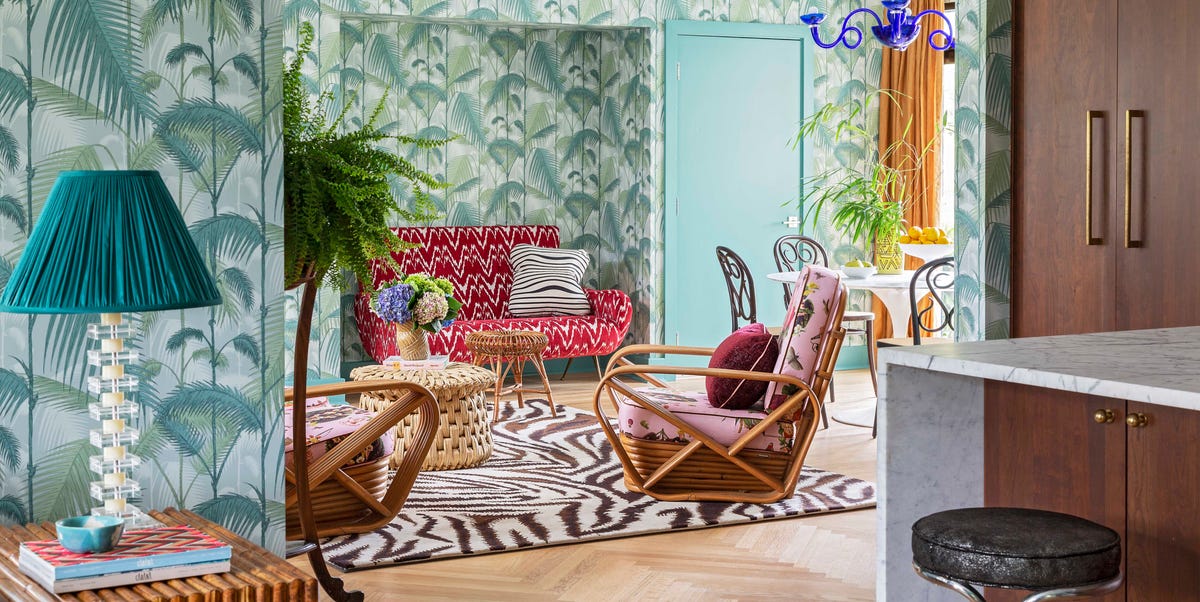 Not long after South Carolina-based designer Angie Hranowsky transformed a beachfront home on Sullivan's Island for a family of five, the homeowners approached her once more. This time, they needed help breathing life into their second home, a 1950s brick bungalow located only 20 minutes from their primary residence. "They decided to get a house downtown that they would live in some of the time," explains Hranowsky—a decision fueled by the location of their kids' schools.
But unlike their last project together, the designer had to work on a more restrictive budget. "They didn't know how long they were going to be there—it wasn't like they were going to keep it forever," Hranowsky says. So, the challenge became, "how do we make this house really cool and fun without spending what we did on the main house?"
Hranowsky started with the walls. Because the clients are art lovers ("there's art everywhere at their other house!") with an affinity for color and pattern, the designer had to flex her creativity to keep the home from looking plain. "You've got all these blank walls. I mean, it was just white," Hranowsky says. "And we didn't really have the budget for art."
Rather than shell out cash or settle for cheap wall hangings, Hranowsky used a combination of wonderfully playful wallpapers to take the place of traditional art across the five-bedroom home. In the main living area, Hranowsky selected a minty Cole & Son jungle palm paper to complement the trove of outdoor light that comes in through a set of sliding glass doors. "We live in this tropical environment and this wallpaper made me think of indoor/outdoor living, so I just sort of took off with that," she says of her decision to extend the pattern to another sitting area and dining room. Elsewhere, Hranowsky used equally as playful prints—like a graphic black-and-white motif in the foyer—to appeal to her client's love of modern design.
To maximize the client's budget, Hranowsky had to shop smart. She purchased strictly British wallpaper rather than reaching for American brands because "you get double the amount of wallpaper in a single role than you do with American wallpaper," she explains. "I kept thinking, if we can stick to British wallpaper, we can get more for our money in terms of covering all of these walls." In the living area, she had two small rugs sewn together—which she purchased on sale from The Rug Company—to create one larger rug.
Hranowsky also relied on repurposed furniture and vintage finds—some of which came from the client's primary home—to keep costs low. A white rattan chair that went unused at the waterfront property, for example, is now situated in one of the sitting areas. The dining room table was also repurposed, while the dining chairs were sourced from a local antique shop.
"Sometimes it's interesting when you have challenges like that," Hranowsky says of the budget. "You come up with stuff that you're like, 'Oh, wow. I can't believe we actually pulled this off.'"
---
Bedroom
A custom bed wrapped in Schumacher's Seychelles Noir fabric stands out against a grasscloth wallcovering by Seabrook. Light Fixture: 17 South Antiques. Bench: Fritz Porter.
---
Sitting Room
Rather than applying wallpaper in the sitting area, Hranowsky decided on a mild yellow-green paint. "It's a really interesting color," she says. She extended the sunny hue to the brick fireplace, which was leftover from the home's original architecture. "It's really beautiful with the window next to it," says Hranowsky. Paint: Farrow & Ball. Lamp: Circa Lighting. Rug: DVF, The Rug Company.
---
Entryway
The entryway was major a selling point for the homeowners. "I think one of the appeals of the house was that, when you walk in, there's this really beautiful, original, oval, foyer with these pink terrazzo floors," says Hranowsky. "That's kind of rare in Charleston." At either side of the foyer, there are entrances to two of the home's sitting areas, which Hranowsky took into consideration while deciding on wallpaper for the space. "I thought I would really love to juxtapose that with something super graphic."
---
Living Room
References to the outdoors abound. "We live in this tropical environment. You see a lot outside in the yard and there's a lot of green," says Hranowsky. So I just thought, you're sort of bringing a little bit of the outdoors in."
---
Dining Room
The blue chandelier was a lucky find, as Hranowsky recalls it. "It's from the late eighties, early nineties," she says. "I found it from this vintage store I've been to a million times. The guys that own it were getting rid of everything from their store in their warehouse at the same time that I was doing this house. So, I got it for a super insane price." Chairs: Brentwood Thonet, John Pope Antiques.
---
Follow House Beautiful on Instagram.
This content is created and maintained by a third party, and imported onto this page to help users provide their email addresses. You may be able to find more information about this and similar content at piano.io

https://www.housebeautiful.com/design-inspiration/house-tours/a37825410/angie-hranowsky-charleston-south-carolina-home-tour/